PORT MORESBY, Papua New Guinea - On Sunday, parts of Port Moresby came to a stop as UN Deputy Secretary-General Amina J. Mohammed and National Capital District Governor Powes Parkop walked through the streets with hundreds of residents and activists. Ms. Mohammed travelled to Papua New Guinea to launch the Spotlight Initiative, making it the highest level visit to Papua New Guinea from the United Nations.
She was joined on the mission by UNAIDS Executive Director Winnie Byanyima and the UN Youth Envoy Jayathma Wickramanayake, who also accompanied Ms. Mohammed on the morning march to celebrate International Women's Day. Afterward, the party travelled to the official Spotlight Initiative launch at Gordon's Market.
"We must all play our part if we are to change the attitudes that suggest that violence and harm are acceptable," said Ms. Mohammed.
The UN estimates that one in three women experiences violence in her lifetime but in Papua New Guinea, that number is as high as two in three.
"We cannot say we have achieved peace if half our communities live in fear, insecurity and without dignity," said Ms. Mohammed. 
Governor Parkop expressed a similar sentiment, highlighting the important role of men and boys in ending violence.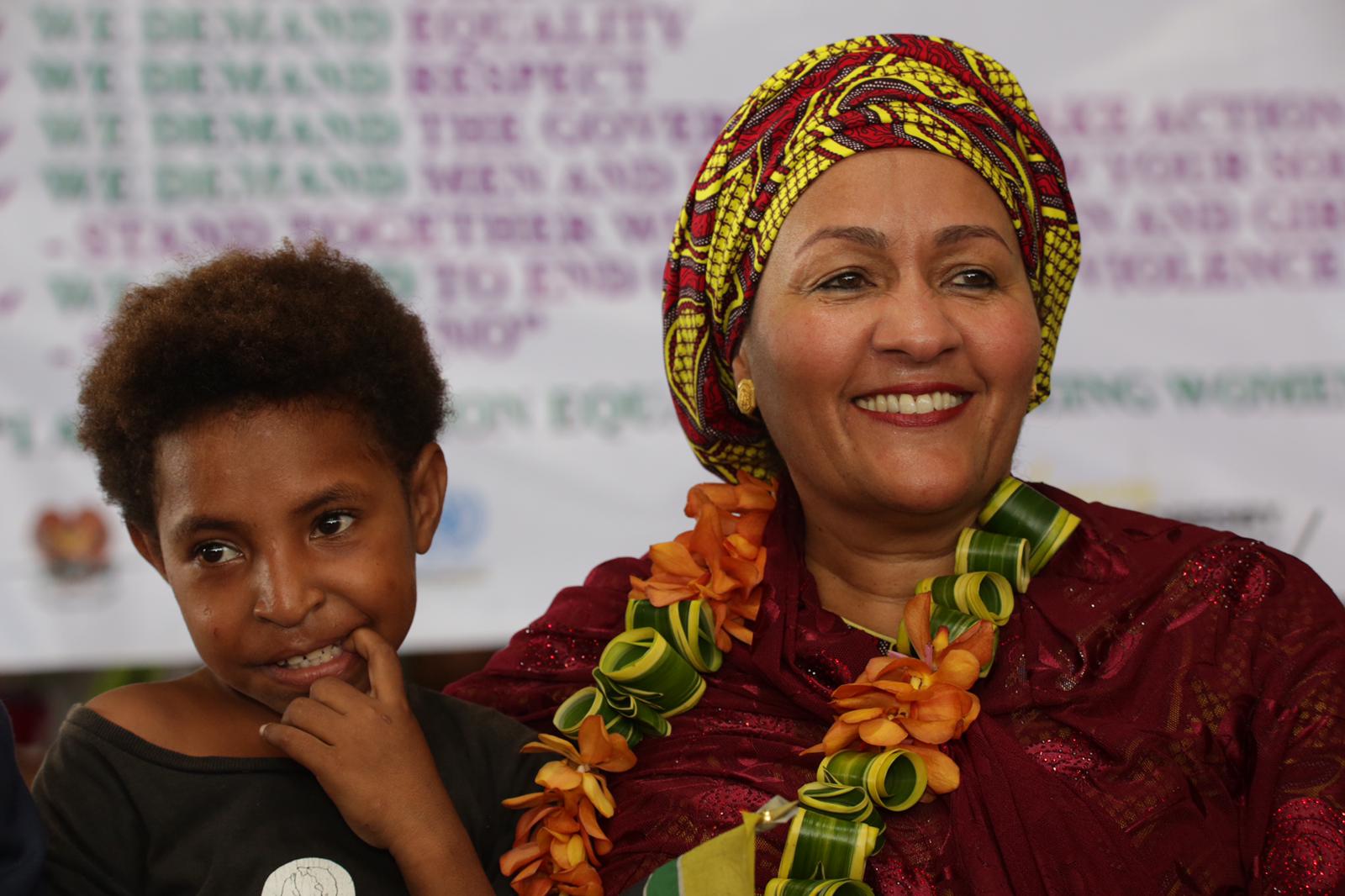 The Initiative will see $22 million invested in ending violence against women and girls in Papua New Guinea over the next three years and it will work with government, community and faith-based organizations, human rights defenders' networks, school communities, and traditional and religious leaders to address the root causes of violence against women and girls. 
During the trip, Ms. Mohammed visited a project that is already transforming women's lives when she rode a Meri Seif bus to the launch. Meri Seif is a female-only transportation network that was launched in 2014 to help women and girls commute safely in the face of extreme harassment. The buses are used by an estimated 240,000 women every year.
At the launch, Deputy Prime Minister Davis Steven called on every citizen to end the "terrorism in our homes" and reiterated the government's strong commitment to creating a generation of Papua New Guineans who live free from gender-based violence.
Jernej Videtic, Ambassador of the European Union to Papua New Guinea, also addressed the crowd. "What the EU and UN want to achieve through the Spotlight Initiative is to promote an environment in which women and girls live free from violence, always and everywhere," he said. "This is not just an ideal that we strive to realize, it is the right of every woman on the planet."