Available in
NAMPULA, Mozambique – Cacilda Afonso, 31, is one of three Mozambican women who might experience abuse at the hands of a partner. Tired of 12 years of insults, neglect and threats of abandonment by her husband, she decided to act and asked for a divorce at the local Institute for Legal Assistance and Representation in Nampula City.
"We say that women can't have a voice, lead or talk. This needs to end, because women have the same rights [as men]" - Cacilda Afonso, survivor of psychological abuse
"He didn't respect me… and we couldn't solve our problems," says Cacilda. She was referred to the nearest Integrated Assistance Centre (called "CAIs" by its Portuguese acronym) and offered couples' counselling at the centre.  
Cacilda and her husband, Mário Luís, 34, sought counselling at the centre in Nampula City. This is one of 24 government-run centres which integrate health, social action, police and justice services under one roof, delivering vital care, especially to women and girls experiencing violence across the country.
COUNSELLING AS AN ANTIDOTE FOR VIOLENCE 
To Cacilda's surprise, everything changed for the better after counselling. "We received lots of advice and we both realized that what we did was not normal," she says.
At the centre, the couple learned to resolve their differences through dialogue. "If something is bothering you, you can't respond with violence: you must talk the issues through," says Mário.
They both learned about the structural imbalances of power between women and men which contribute to perpetuating violence: "Women are afraid to speak up because they may lose their home, [while] men claim they lead the household," says Mário. 
"We say that women can't have a voice, lead or talk. This needs to end, because women have the same rights [as men]," says Cacilda.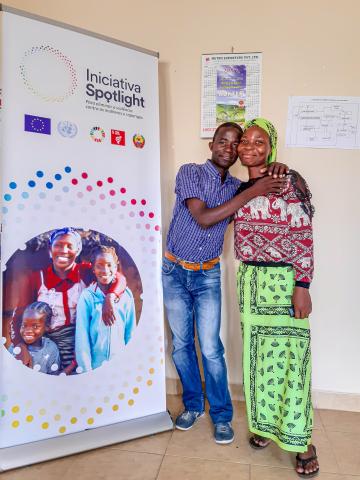 INTIMATE PARTNER VIOLENCE 
Intimate partner violence is one of the most common forms of violence against women and includes physical, sexual, and emotional abuse and controlling behaviours by an intimate partner. World Health Organization data shows that the overwhelming global burden of intimate partner violence is borne by women. 
Evidence from the latest Demographic and Health Survey (DHS 2011) shows a great degree of tolerance towards violence: one in four women surveyed considered a husband to be justified in hitting or beating his wife for at least one of five specified reasons: if his wife burns the food, argues with him, goes out without telling him, neglects the children or refuses sexual relations. 
In Cacilda's case, frequent arguments triggered psychological abuse by her husband, which she accepted during most of their marriage. 
Having overcome intimate partner violence through dialogue, Cacilda now offers advice to others going through the same experience. "I recommend others to seek support [at the centre] to solve their problems," she says.
In fact, Integrated Assistance Centres are increasingly recognized by communities as safe spaces which they can trust to help solve cases of violence. They work as 'one-stop´ centres that allow survivors of violence to report their attacker, seek medical attention and access counselling at a single location, without having to retell their story multiple times or relive their trauma. 
Since its launch in 2019, the Spotlight Initiative, a programme led by the Ministry of Gender, Child and Social Action (MGCAS), funded by the European Union and in partnership with United Nations and civil society organizations (CSOs), has helped to rehabilitate and equip four Integrated Assistance Centres. Government institutions from the social welfare, health, justice and police sectors are the backbone of the Spotlight Initiative in Mozambique, along with over 20 CSOs. Together, they have reached more than 1.9 million people, of which over 1.1 million are women and girls across 10 districts of Gaza, Manica and Nampula provinces.
By Leonor Costa Neves with reporting by Laura Lambo
Language:
Portuguese, International
Title:
Superar a violência por parte do parceiro íntimo através do diálogo
Body:
NAMPULA, Moçambique - Cacilda Afonso, de 31 anos, é uma das três mulheres moçambicanas que pode vir a sofrer abusos nas mãos de um parceiro. Cansada de 12 anos de insultos, negligência e ameaças de abandono por parte do seu marido, decidiu agir e pedir o divórcio no Instituto do Patrocínio e Assistência Jurídica (IPAJ) local, na cidade de Nampula.
"Dizem que as mulheres não podem ter voz, liderar ou falar. Isto tem de acabar, porque as mulheres têm os mesmos direitos [que os homens].", Cacilda Afonso, sobrevivente de abuso por parceiro íntimo
"Ele não me respeitava... e nós não conseguiamos resolver os nossos problemas", conta Cacilda. Tendo em conta a sua questão, Cacilda foi encaminhada para o Centro de Assistência Integrada (CAI) mais próximo, e lá foi-lhe oferecido aconselhamento para casais.
Cacilda e o seu marido, Mário Luís, de 34 anos, foram atendidos no CAI da cidade de Nampula. Este é um dos 24 centros geridos pelo Governo que disponibilizam de forma integrada serviços de saúde, acção social, polícia e justiça, prestando cuidados vitais, especialmente a mulheres e raparigas vítimas de violência em todo o país.
ACONSELHAMENTO COMO ANTÍDOTO CONTRA A VIOLÊNCIA 
Para surpresa de Cacilda, tudo mudou para melhor após o aconselhamento. "Recebemos muitos conselhos e ambos percebemos que o que fizemos não era normal", diz ela.
No centro, o casal aprendeu a resolver as suas diferenças através do diálogo. "Se algo nos incomoda, não podemos responder com violência: é preciso falar sobre as questões", diz Mário.
Ambos aprenderam sobre os desequilíbrios estruturais de poder entre mulheres e homens que contribuem para a perpetuação da violência: "As mulheres não falam com medo de perderem o seu lar, [enquanto] nós homens dizemos que nós é que mandamos em casa", diz Mário.
"Dizem que as mulheres não podem ter voz, liderar ou falar. Isto tem de acabar, porque as mulheres têm os mesmos direitos [que os homens]", afirma Cacilda.
VIOLÊNCIA POR PARCEIRO ÍNTIMO 
A violência por parceiro íntimo é uma das formas mais comuns de violência contra as mulheres e inclui abuso físico, sexual e emocional, e comportamentos de controlo por parte de um parceiro íntimo. Dados da Organização Mundial de Saúde mostram que o fardo global esmagador da violência por parceiro íntimo é suportado pelas mulheres.
Os dados do último Inquérito Demográfico e de Saúde (DHS 2011) mostram um elevado grau de tolerância em relação à violência: uma em cada quatro mulheres inquiridas considerava que tinha justificação o marido bater na sua mulher por, pelo menos, uma das cinco razões especificadas: se a sua mulher queimar a comida, discutir com ele, sair sem lhe dizer, negligenciar os filhos ou recusar-se a ter relações sexuais.
No caso de Cacilda, discussões frequentes desencadearam abusos psicológicos por parte do seu marido, os quais ela aceitou durante a maior parte do casamento. Tendo superado a violência por parceiro íntimo através do diálogo, Cacilda oferece agora conselhos a outros que passam pela mesma experiência. "Recomendo aos outros que procurem apoio [no centro] para resolverem os seus problemas", diz ela.
Os Centros Integrados de Assistência são cada vez mais reconhecidos pelas comunidades como espaços seguros, nos quais a comunidade pode confiar para ajudar a resolver casos de violência. Estes centros trabalham como pontos de "paragem única", que permitem aos sobreviventes da violência denunciar o seu agressor, procurar cuidados médicos e aceder a aconselhamento num único local, sem ter de recontar a sua história várias vezes ou reviver o seu trauma, evitando a revitimização.
Desde o seu lançamento, em 2019, a Iniciativa Spotlight, um programa liderado pelo Ministério de Género, Criança e Acção Social (MGCAS), financiado pela União Europeia e em parceria com as Nações Unidas e organizações da sociedade civil (OSC), ajudou a reabilitar e equipar quatro Centros de Assistência Integrada. Instituições governamentais dos sectores do bem-estar social, saúde, justiça e polícia são a espinha dorsal da Iniciativa Spotlight em Moçambique, juntamente com mais de 20 OSC. Em conjunto, estas entidades atingiram mais de 1,9 milhões de pessoas, das quais mais de 1,1 milhões são mulheres e raparigas em 10 distritos das províncias de Gaza, Manica e Nampula.
Por Leonor Costa Neves com reportagem de Laura Lambo