In Uganda, mental health support for refugee women who have experienced violence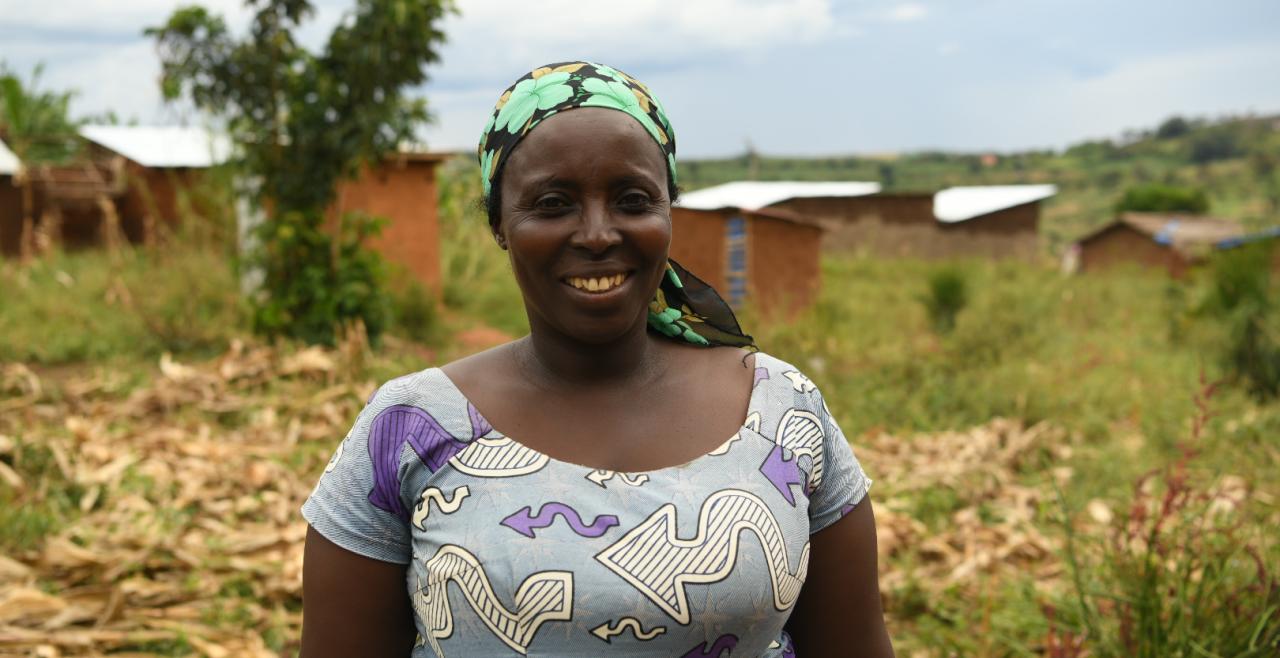 June 18, 2020
KYEGEGWA DISTRICT, Uganda - By the time Nyantoro, 43, arrived at Kyaka II refugee settlement in Western Uganda, she "had lost all hope". Six weeks earlier, she and her family had made the difficult decision to abandon their home and cattle farm in Minembwe, the Democratic Republic of Congo (DRC), to travel to Uganda by foot. Nyantoro had been shot in the stomach during civil unrest and inadequate medical care meant that many of the bullets had not been removed, causing her chronic pain. The journey was difficult - they got lost many times, ran out of food and two of her sons died tragically in a bus accident in transit to Kyaka II.
"Good Samaritans and God were my only source of strength," she says of that time.
Nyantoro and her family were among the 17,000 refugees who settled in Kyaka II between December 2017 and January 2020 following renewed violence in the DRC. Though she received medical care and felt safe in the settlement, she barely slept and was haunted by the accident that had killed her children.
"They gave me the courage and resilience to face my challenges" - Nyantoro, 43
Nyantoro credits the psychosocial support she received at Kyaka II with changing her life.
"I felt loved, I felt cared for," she says of the cognitive behavioral therapy she received from TPO Uganda, a Spotlight Initiative-supported organization that works to improve the mental and socioeconomic wellbeing of refugees at Kyaka II. During the 10-week course, Nyantoro was able to address many of her fears and develop the tools she needed to cope.
"TPO Uganda gave me time and listened to my problems… They gave me the courage and resilience to face my challenges," she says.
While the importance of mental health can sometimes be overlooked during crises, psychosocial support for women and girls is critically important. By the time many refugees arrive at their destination, they've encountered violence and trauma - both at home and on their journey. Women and girls also face many challenges within refugee settlements themselves. Stress, overcrowding and limited resources can create an environment where domestic violence and harassment flourish.
When Sarah, 16, arrived at Kyaka II from Rutshuru in the DRC, she was three months pregnant. Her parents had been killed in the conflict and she didn't feel safe remaining in DRC. At Kyaka II, she was able to reunite with her aunts and cousins, and she received pre-natal care, eventually giving birth to a healthy baby boy.
"They brought me back from a dark place" - Nyantoro, 43
She regularly attends group counselling and says the sessions give her a chance to meet and speak with women who have had similar experiences. The support network has built her resilience and she plans to study hairdressing or tailoring in the future. She hopes to show other women who have experienced violence that they can support themselves and their children.   
As for Nyantoro, life in the settlement is still not easy, but she says that counselling helps.
"Whenever I have problems, I share them with TPO staff," she says. "They brought me back from a dark place."
TPO Uganda works with Spotlight Initiative in Uganda to ensure that survivors of violence can access quality care and sexual and reproductive health services.
Reporting by Lydia Nalukwago and Eva Noma Sibanda. Lead image: Nyantoro photographed at Kyaka II refugee settlement by Eva Noma Sibanda/UN Women.
Like what you read? Spread the word.