Homes for women-headed households and vulnerable Ivoirian refugees in Liberia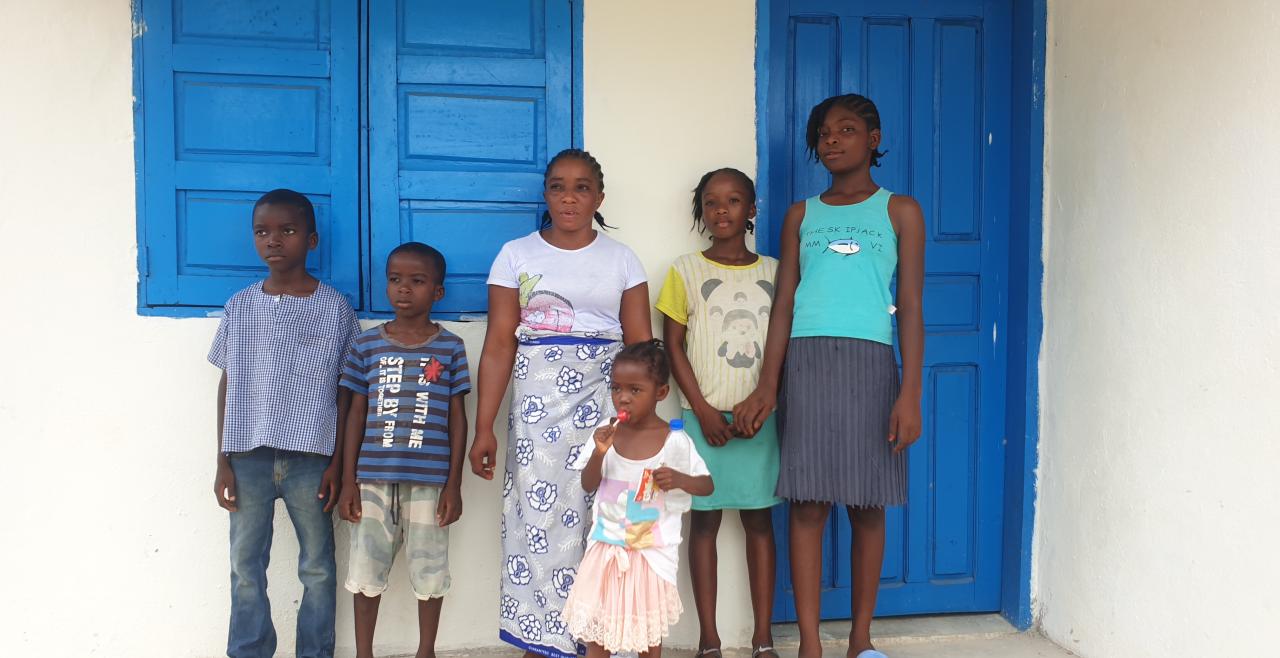 December 8, 2022
BAHN, Liberia - Princess Kouadio was 20 when she fled her home in Zouan-Hounien, La Cote D'Ivoire, in October 2011, along with her two children. She was among 27,000 Ivoirians who fled to Liberia between 2002 and 2011 because of political instability and civil war.
But as often the case in conflicts and disasters, women and girls – already burdened by a wide range of discrimination – face heightened vulnerability. Insecurity and displacement fuel increased sexual and gender-based violence, as well as other crimes and human rights violations such as trafficking, early and forced marriages, or denial of access to sexual and reproductive health services.
"This house provides my family and me the much-needed starting point as I strive to help my children to become the best they can be in their new-found home." - Princess, former refugee
Such is the story of Princess. "I fled to Liberia with my two children. I was16 when I had my first child in August 2007. My parents got angry with me and ordered me to live with my partner. Two years later, I became pregnant again with the second child, and my partner decided to leave me for another woman. So fleeing La Cote D'Ivoire for Liberia seemed to have been a relief for my partner as he has never once contacted the children and me," Princess says.
 
Princess' vulnerability as a young, single mother was preyed upon at the refugee camp in Liberia by a man with whom she later had two children. Eventually, he also left her.
"I have since forgotten these two men took advantage of me," says Princess. "I see my four children as gifts from God. I am more concerned about how I cater to them. Thankfully, they are all doing well in school.
According to the Liberia Refugees Repatriation and Resettlement Commission (LRRRC), by July 2022, Liberia and UNHCR have repatriated more than 30 thousand Ivoirian refugees back to their country. They are also helping 597 who have opted for Liberian citizenship with their legal documentation.
Ensuring the safety and protection of vulnerable women
Princess is among women-headed households and vulnerable community members who recently benefited from 15 durable shelters at the Bahn Settlement, formerly the Bahn Refugee Camp in Bahn, Nimba County. 
She praised partners, including the Spotlight Initiative, for providing former Ivoirian refugees who have decided to integrate into Liberia with the opportunity to start a new life. "This house provides my family and me the much-needed starting point as I strive to help my children to become the best they can be in their new-found home [Liberia]," says Princess.
Over 100 shelters have been constructed for former Ivoirian refugees and host communities in Nimba County by the United Nations Population Fund (UNFPA) in collaboration with the United Nations High Commission for Refugees (UNHCR). Twenty-five of them have been funded by Spotlight Initiative.
The global Spotlight Initiative to eliminate violence against women and girls is a United Nations initiative supported by the European Union and other partners. In Liberia, it was launched in June 2019 by the Government, the European Union, Civil Society Organizations, and the United Nations.
Originally published by UNFPA.
Like what you read? Spread the word.