Fifteen and capable: In Belize, youth leadership in action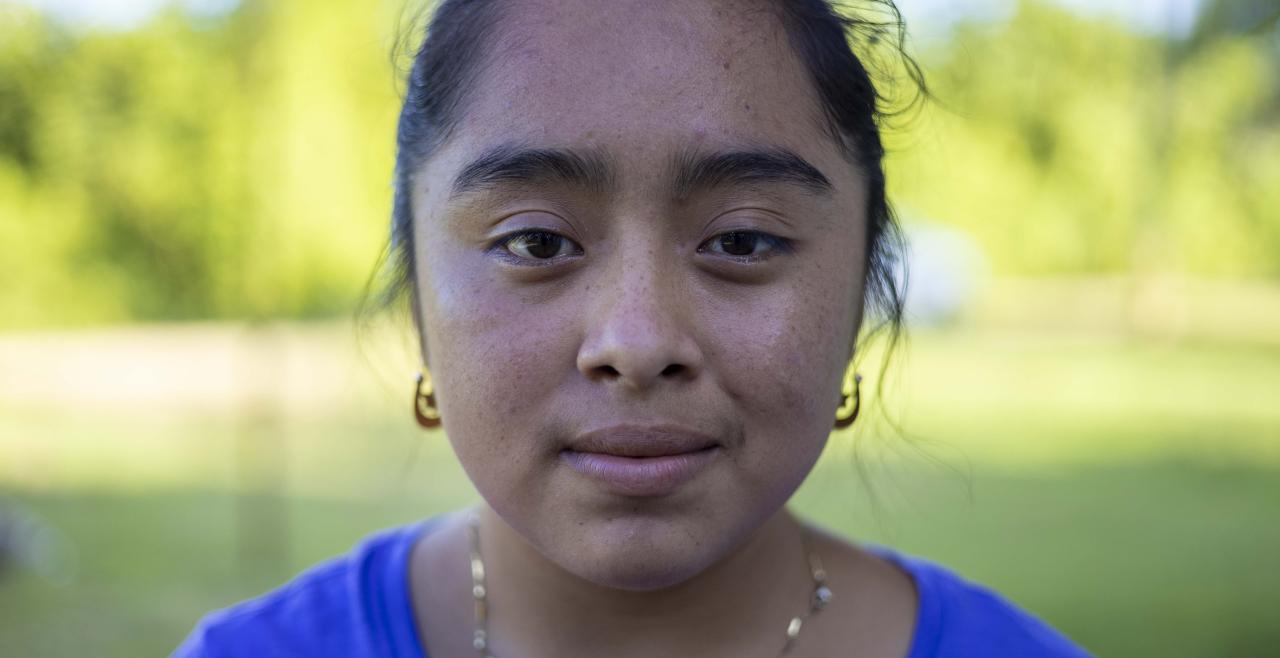 March 14, 2022
GOLDEN STREAM, TOLEDO, Belize - Fifteen-year-old youth advocate Karla Ash leads the largest environmental club in Southern Belize.  Her group, Golden Stream Environmental Keepers, carries the name of her home community in the Toledo District of Southern Belize. The club has 34 members and is supported by the Toledo Institute for Development and the Environment (TIDE) and the Spotlight Initiative. 
She is a fourth-form student at Julian Cho Technical High School where she studies science in the hopes of becoming a doctor one day. In the afternoons, she plays football and volleyball with her three siblings and does schoolwork and chores.
Her leadership is all the more impressive given the recent death of her uncle, which put her family under emotional and financial stress and left her father as their sole provider.
"It was a real challenge she took up," says Federico Caal, the Education Coordinator at TIDE. "Her leadership is exemplary and not only extends to the fun sporting activities she coordinates, but includes clean-up campaigns and attending sessions from POWA [a local civil society organization] on family violence." 
"Through these family violence sessions, I have been able to learn about gender-based violence." - Karla Ash, 15, Youth Advocate Leader 
Learning to identify family violence 
Because of COVID-19 and limited electricity and phone services, Karla's club is only able to meet in person with 10 members at a time. Despite the challenges, she ensured that members were able to attend information sessions on family violence by organizing a schedule in line with COVID restrictions.
The sessions have helped Karla and her group identify family violence and learn how to talk about it, as well as gain a better understanding of women and girls who face intersecting forms of discrimination. 
"Through these family violence sessions, I have been able to learn about gender-based violence and gain awareness of the LGBT community in the country," says Karla.
In future, she wants the group to make posters to keep raising awareness of family violence in their community. 
The group has also been able to consistently manage waste along the river of Golden Stream – an improvement that has not gone unnoticed by residents and community leaders. 
"A lot of people who come to visit the village leave behind plastic bags and cups," she says. "One thing I really wanted to do through the club was to bring awareness to the community that the environment is really important." 
Leading by example
Karla says that being a youth advocate leader has helped her come out of her shell and given her a platform to be heard. This growing self-confidence has allowed her to encourage other group members to step out of their comfort zones, too. 
"I am thankful to UNICEF, TIDE and the Spotlight Initiative for the opportunity to be a youth advocate leader and their support and donations of sporting and stationery kits, that my group has benefited from greatly," she says.
Karla Ash and others like her are helping to build the communities they want to live in – where the environment is respected and every person is free to live a life free from violence and discrimination. 
Seventeen community youth clubs like Karla's have been engaged in Toledo district alone, reaching 284 members in 2021. Executive members of the clubs conduct peer education sessions within their own and neighbouring communities, with the aim of reaching an additional 170 young people.
By Perla Hinojosa with reporting from UNICEF Belize/NVISION
Like what you read? Spread the word.