Building resilient, violence-free communities through youth activism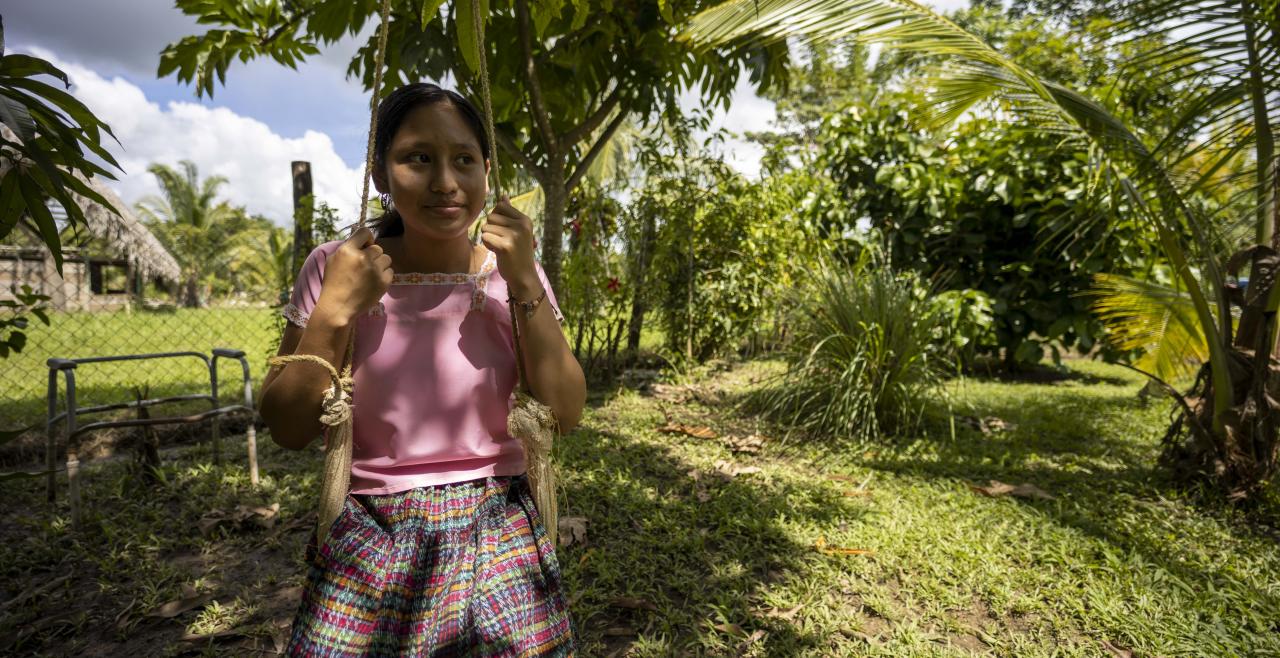 February 24, 2022
TOLEDO DISTRICT, Belize – Kathie Coy, a 15-year-old youth advocate leader and third-year science student at Julian Cho Technical High School, has a life that's typical of teenagers in her small community. Her favourite subjects are English and creative writing, and she loves playing basketball and football.
But in the past two years, COVID-19 has redefined learning. Instead of classes, she now receives booklet packages from school with learning materials that she must work through on her own.  
"It is hard for me," she says. "I prefer face-to-face classes and the one thing I would love to change in my life is to be able to go back to school. COVID-19 has changed all that."
Despite this challenge, Kathie manages to support her family and engage with other young people her age. She serves as the Vice President for Big Falls Eco Warriors, a Spotlight Initiative-supported youth group that does a variety of community work. Their motto is: We are the green team. We educate, restore and protect. 
"I love to lead," says Kathie. Her mother, Priscilla, is supportive of her daughter. "I am proud of the contribution she's making," says Ms. Coy. "Being a leader is important for younger ones, to build them up and serve as role models."
"We aim to engage all the youths to do something positive and helpful in their community," says Kathie. Her group mainly has been focused on environmental and community work through clean-up campaigns that remove litter.
Kathie also serves as one of the six overall club executives and travels to all the communities in her district ensuring that youth remain active and engaged with their leaders.
"We aim to engage all the youths to do something positive and helpful in their community." - Kathie Coy, 15, Youth Advocate Leader
Equipped with GBV knowledge
Through the Spotlight Initiative and the Toledo Institute for Development and the Environment (TIDE), Kathie and her team have organized five zoom sessions with another southern community-based organization, POWA in order  to help families and young people learn about family violence.
"I felt excited to learn because family violence is such a broad topic and I wanted to be able to learn more about it and then share it with those around me," says Kathie.  
Before the sessions, she thought that family violence only impacted the person being abused, but now she recognizes that it can impact upon the whole community. 
Kathie says that through these sessions, she learned how to better deal with cases of family violence and how to talk about it with others. For instance, she realized that one of her group members shows signs of experiencing violence at home and she plans to talk with them about it, with the hope that she can refer them to resources and services for support.
Challenging gender norms
One of the sessions that Kathie enjoyed the most was on gender equality and gender norms. She learned that while boys and girls are often raised with strict gender roles, those roles can be reshaped and redistributed. This includes assigning boys tasks that often fall on girls, such as house chores. 
"Everyone grows up to like certain things and it is important not to stereotype what someone will or won't like later on in their life [based on their gender],"  she states.  
Kathie recognizes that it isn't always easy for someone to come forward about family violence, so she strives to build trust and create a safe space for her youth group. Right now, her group is organizing a small poster competition on family violence to raise awareness of the issue. 
Kathie also encourages other young people to feel empowered. "We have the power to do anything we wish; we can motivate others just by doing little things and good deeds," she says.
Seventeen community youth clubs like Kathie's have been engaged in Toledo district alone, reaching 284 members in 2021. Executive members of the clubs conduct peer education sessions within their own and neighbouring communities, with the aim of reaching an additional 170 young people.
By Perla Hinojosa with reporting from UNICEF Belize/NVISION
Like what you read? Spread the word.