Vanuatu launches safe spaces for women and girls in cyclone-stricken Tanna Island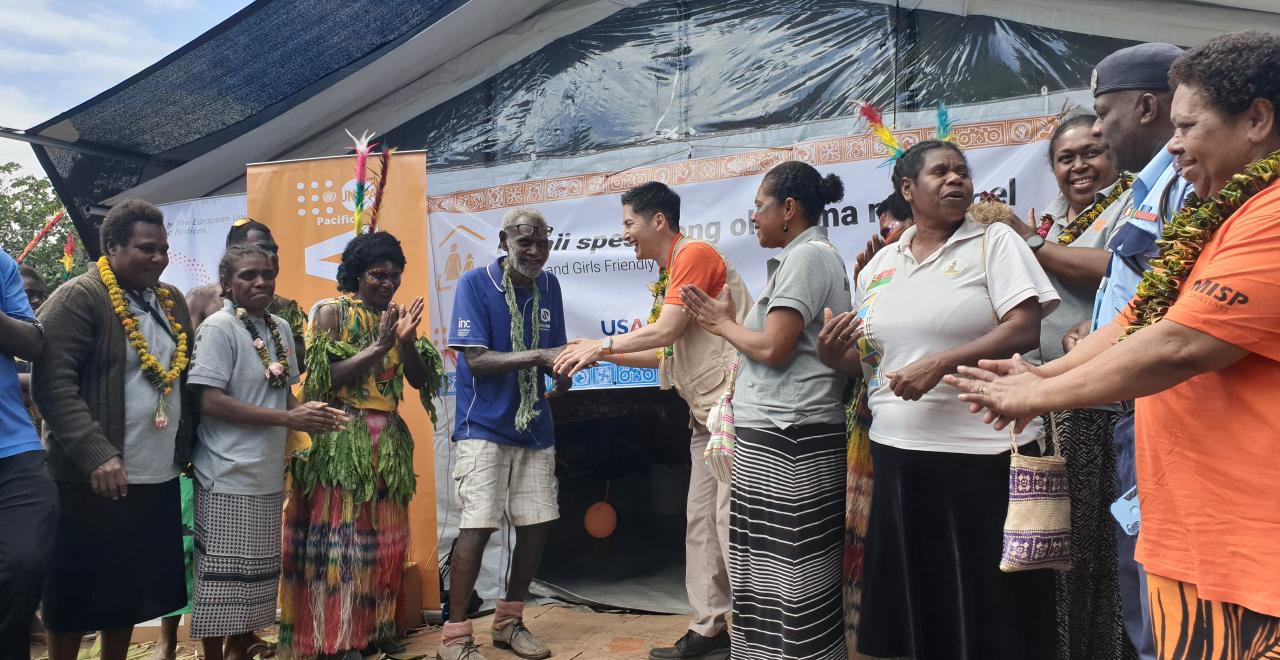 August 23, 2023
TANNA ISLAND, Vanuatu – "Our vision is to sustain this  safe space where women and girls can gather, support and empower each other to improve their sense of dignity, wellness, and livelihoods," said Patarie, the wife of the Launaula Village Chief, as she joined the community's launch of the "Women and Girls Friendly Space" (WGFS). The space started operating just a couple of days ago in her village on Tanna Island in TAFEA Province of Vanuatu.
The same day, in Lanaken - another village in Tanna - hundreds of villagers were celebrating the launch of a WGFS in their community.  They are among the five WGFS that are being established on the island of Tanna, and these are the first-ever Women and Girl Friendly Spaces set up in the country. 
The establishment of safe spaces for women and girls was a priority in Vanuatu government's response and recovery plan from two consecutive large-scale Tropical Cyclones Judy and Kevin, which ravaged the country in March.
Tanna was one of the worst-hit areas.  Since then, the United Nations Population Fund (UNFPA) Vanuatu Country Office and Pacific Sub-Regional Office in Fiji, along with its NGO implementing Partner, CARE Vanuatu, have been consulting with the cyclone-affected villages, Area Administrator, TAFEA Provincial authorities, in addition to the Department of Women's Affairs in the capital Port Vila, to help create WGFS.
When a disaster such as a cyclone or a health pandemic hits a community, the interruption in basic social services including for sexual and reproductive health e.g. childbirth and family planning, as well as for protection, exacerbates the vulnerabilities of women and girls. As a result, during or in the aftermath of a crisis, the incidence of sexual and gender-based violence, unwanted pregnancy, and sexually transmitted infections like HIV, tends to increase. 
"Women and Girls Friendly Space provides a platform to women and girls to find refuge and safety, share experiences and solidarity, and access services and information to address their critical sexual and reproductive health needs, and receive referrals to necessary services, including against gender-based violence, and for psychosocial support," said Lori Kato, UNFPA Director for the Pacific and Representative in Fiji, as he joined the WGFS launching ceremony in Lanaken Village.
WGFS strengthen community resilience and mechanisms for the protection of women's and girls' health and rights. Protecting women and girls is not only critical to surviving a disaster, but accelerates the recovery.
Midwives provide counsel on maternal health to visiting women, while the women are engaging in income-generating activities, such as basket- and mat- weaving. UNFPA's support to WGFS also includes the provision of 'Dignity Kits" and "Menstrual Hygiene Management Kits," multi-purpose tents, in addition to the deployment of midwives from Fiji to ensure safe delivery of babies.
This integrated support is made possible by the funding support from Spotlight Initiative, and United States Agency for International Development (USAID) Bureau for Humanitarian Assistance (BHA).
The first two WGFS in Lenaken and Launaula Villages originally aimed to reach 700 women and girls in the first month of operation. In the first three days, more than 600 women made use of the services, demonstrating the strength of the community-led initiative. These spaces are 'off limits' to men, and inside the tent, visiting women are attended by female service providers. Outside the WGFS in Lanaken, village men are supporting the cause by preparing meals for women who are accessing the safe space.
"We all now realize the benefits and importance of including women in planning and decision-making of the community, including for preparedness and response to disaster, and the area's overall development," said the Area Administrator, John Bill Charlie. "Having a Women and Girls Friendly Space in our village perfectly fits this vision."
Like what you read? Spread the word.