Press Release
DILI, Timor-Leste - His Excellency Taur Matan Ruak, Prime Minister of Timor-Leste presided over the Council of Ministers meeting that approved the EU-UN Spotlight Initiative programme in Timor-Leste that aims to eliminate violence against women and girls, one of the most serious human rights violations in the world.
The Spotlight Initiative is a multi-year partnership between the European Union and the United Nations, with a global budget of EUR 500 million or USD 550 million, to eliminate all forms of violence against women and girls by 2030. It is one of the world's largest investments in this field and in Timor-Leste. The programme will commence later this month, focusing on the elimination of domestic violence and intimate partner violence. 
"I am highly appreciative as well as supportive of this initiative and keenly do look forward to successful implementation of this programme across the country. The Initiative is in line with the commitments of the Timor-Leste's National Action Plan on Gender-Based Violence to promote and protect the dignity and rights of women", stated Her Excellency Maria José da Fonseca Monteiro de Jesus, the Secretary of State for Equality and Inclusion at the Government Palace in Dili.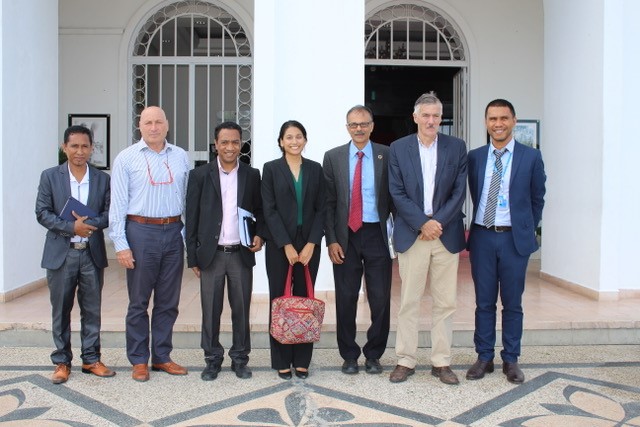 Timor-Leste is one of the countries benefiting from the Spotlight Initiative. The programme aims to support measures of the government to eliminate all kinds of harmful practices around violence against women and girls. The three-year investment of the Spotlight Initiative in Timor-Leste amounts to USD15 million. The Initiative is led by the UN Resident Coordinator and will be implemented jointly by UN Women, UNDP, UNICEF, UNFPA, and ILO at national levels and focusing on three municipalities of Bobonaro, Ermera and Viqueque. 
"The Spotlight Initiative will create spaces for all in Timor-Leste, particularly youth (male and female), civil society and key institutions, to contribute more actively to ending violence against women and girls", noted United Nations Resident Coordinator, Roy Trivedy. He underlined violence as a major obstacle to achieving the rights of women and girls and to the achievement of the Sustainable Development Goals. 
This Initiative will work to strengthen country's legal frameworks and institutions, promote positive social norms, increase access to support services for survivors of violence, improve the collection and use of data for better policy making, and strengthen the work of civil society organizations.
 "As Timor-Leste begins a new decade of consolidating economic and social development, the Spotlight Initiative will be one of the major contributions to improving the lives of women and girls in the country" said Andrew Jacobs, European Union Ambassador. "We need to work together under strong Government leadership to win the battle against the scourge of violence against women and girls. This is a priority for the European Union and we are proud to support Spotlight," he further noted. 
For further information, please contact:
Marina Rini, Communication Officer, EU Delegation
Email: mmarina.rini@gmail.com
Ahmed Saleem, Communications Officer, UN Resident Coordinator's Office
Email: mohammed.saleem@one.un.org
Photo: UN Photo/Martine Perret