Youth for tomorrow: young people in Belize are building a sustainable, violence-free future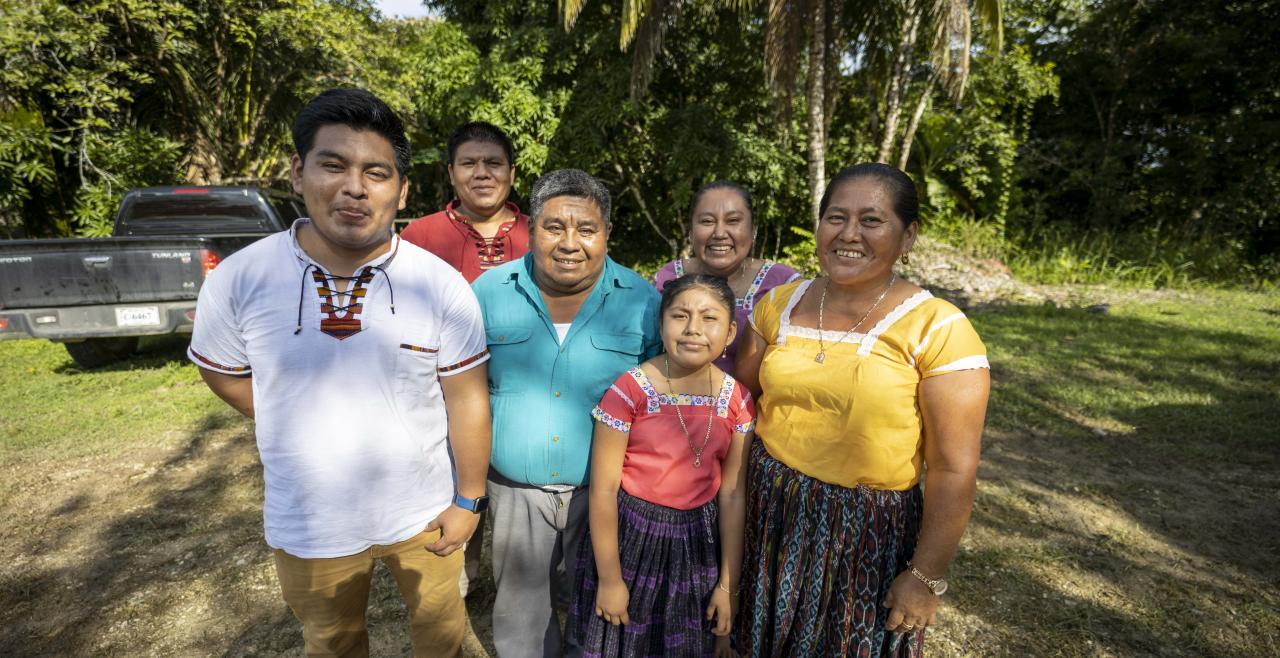 March 14, 2022
SILVER CREEK VILLAGE, Belize - Marshall Choco, 21, comes from Silver Creek Village in the Toledo District of Southern Belize. He is currently studying for his bachelor's degree in Business Administration, an opportunity he knows not every young person is fortunate enough to have. 
"I was very lucky to be able to finish high school and go on to get my Associate's [degree] and now Bachelor's [degree] which is something not a lot of youth in my community can do," he says. While Marshall's family was able to finance his education through farming and his father's job as a security guard, many of his peers were forced to drop out of school.
That's why Marshall is determined to uplift other young people in his village through his work with the Toledo Institute for Development and the Environment (TIDE), a Spotlight Initiative-supported organization that runs youth clubs focused on conservation and community work. Not only does he run his own youth group with 24 members, Youths for Tomorrow, but he also serves as president of all 17 youth clubs in Southern Belize.
Youth today, leaders tomorrow 
Working with TIDE combines Marshall's love of technology with his passion for empowering youth in his community. 
After noticing a high dropout rate among secondary school students, Marshall has been using his own access to technology and the internet to keep his club members engaged with learning. This includes helping them to create videos or spending time with them online watching educational videos. 
"One thing I hope to do through the youth group is bring my experience and share it, so that the [club members] can also learn from it," he says. 
Learning about family violence
In addition to the environmental work they do, the club runs training sessions on child abuse and family violence. Marshall says this is important as many of the young people he works with are not aware of their rights or how to recognize abuse. In fact, after the training, Marshall realized that he had witnessed family violence himself, but did not have the information to know what to do. 
He hopes that his group will be able to make more informed decisions if faced with a similar situation.
"The training [sessions] provided by TIDE are fun and interactive, which gives the youth a chance to really engage," he says. 
Marshall and his group hope to build a website to serve as a learning hub for the information they've received on family violence. The site will house videos, stories and information to ensure that it's accessible to everyone. Marshall will also use this as an opportunity to teach the club members skills such as graphic design and video editing.
TIDE's Education Officer Federico Cal says that Marshall's leadership has allowed other youth club members to thrive and have their voices heard, while Marshall says the group has given him a chance to reconnect with his community and learn alongside them. 
"I am very, very happy to see them so engaged, so active and outgoing," says Marshall with pride. "They are always checking in to see what we have planned. They always want to be doing more. I am just very happy."
By Perla Hinojosa with reporting from UNICEF Belize/NVISION
Like what you read? Spread the word.