Upskilling women migrant workers for the future of work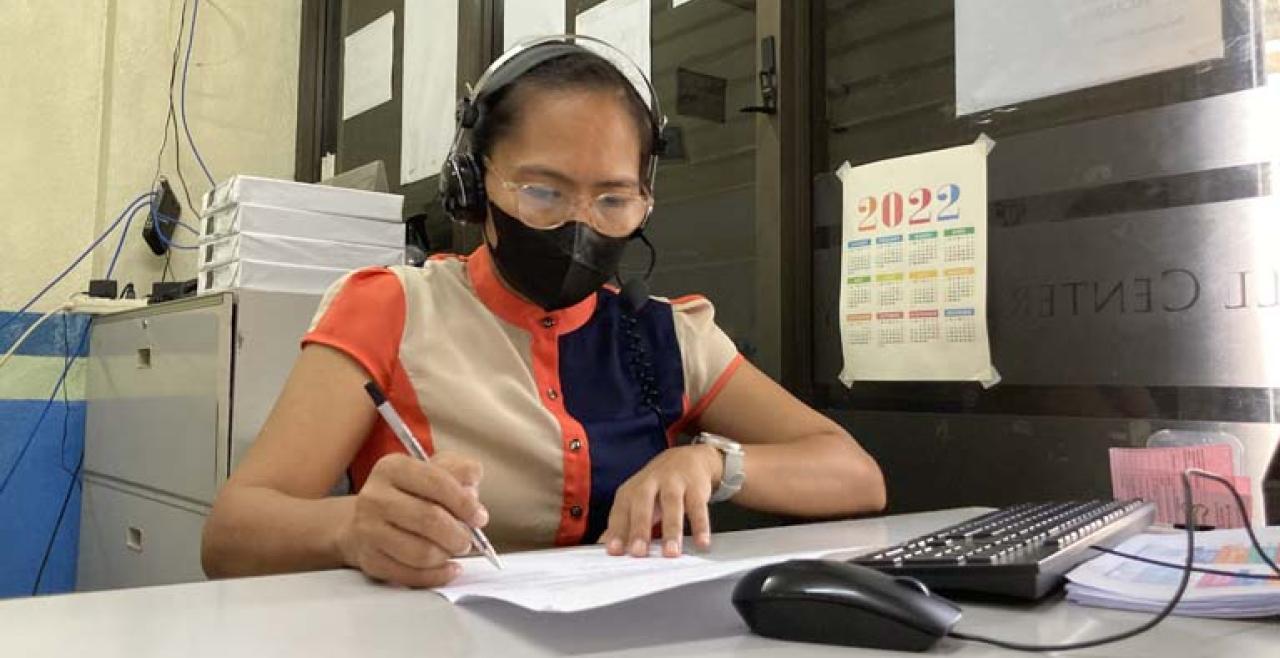 December 19, 2022
CEBU CITY, Philippines - Evelyn Caballero was a migrant domestic worker for more than 30 years. She worked as a nanny in Hong Kong, Singapore and Abu Dhabi for almost half of her life, leaving her own family behind.
Due to the COVID-19 pandemic, Evelyn lost her job and returned to the Philippines. She was among the first group of returning Overseas Filipino Workers (OFW). At 49 years old, Evelyn was worried about whether she could still find a job. However, she saw it as a chance to be with her family as well.
"I wanted to spend time with my family because they have grown up without me. Before I got married, I was already an OFW. It was very hard because I cannot attend to the needs of my own children. Zoom and Skype can help, but not completely, because they can only see me, and not really feel my presence," cried Evelyn.
Evelyn has two children. When her youngest was only three, she left him to work abroad again. Now, her oldest is 18 and in senior high school, and her youngest is 16. She hopes that her family, especially her sons, will have a better future. Even though she has been an OFW for nearly half of her life, she has no social protection benefits such as a pension, so she cannot afford to be unemployed.
While browsing Facebook, Evelyn discovered the #WomenCanDoIT scholarships of the International Labour Organization (ILO) for OFWs and their families. The ILO Women in STEM and the Safe and Fair Programme, under the Spotlight Initiative, have joined forces.
Together, they partnered with the Overseas Workers Welfare Administration (OWWA) and the Technical Education and Skills Development Authority (TESDA) to offer scholarships for migrant workers and their families.
Some OFWs when they return from abroad, they do not have the skills. Unique about this one is because it focuses on women, and they are significant in our society.
"Some OFWs, when they return from abroad, do not have the skills [to do different work]. This project is unique because it focuses on women, and they are significant in our society. They can earn certificates from the training, and when they are empowered, they can achieve big results. The partnership with the ILO is commendable, and we have series of graduates already," said Engineer Gamaliel Vicente, Jr., the Regional Director of TESDA for Region 7.
The scholarships offered to OFW women in Cebu included training in call centre services, creative web design, and bread and pastry production. It aims to provide them with important soft skills and technical skills in Science, Technology, Engineering, and Mathematics (STEM) to increase their employability. 
Through the scholarships programme, OFW women will also be empowered with authoritative information and integrated support services on fair labour migration, and risks of trafficking, exploitation, violence and abuse, including through the use of innovative technology.
"Technological advances will significantly change the future of work. Women are more likely to lose their jobs, which creates inequality and leaves them behind. Developing their skills is crucial to address the gaps, make them more employable, and give them access to decent work. This is also true for our returning OFWs, helping them acquire these skills will improve their job prospects," said Director Khalid Hassan of the ILO Country Office for the Philippines.
In Cebu City, the ILO, OWWA and TESDA partnered with the Call Center Academy to upskill and empower women OFWs through digital skills, thereby expanding their employment options.
Evelyn remembered how much she struggled at first. She was not particularly computer-savvy and thought that there was no space for her to find a decent job in her own country. She felt that working as a nanny is very different from working in the Business Process Outsourcing (BPO) industry.
"I am not a college graduate and I have no experience in banking," she shared. "I lost confidence due to my age, but this call centre training helped me regain it. We have this mock call. After the assessment, I was awarded a silver badge... I was hired before our training ended," Evelyn shared.
Evelyn said the scholarship was life-changing. She no longer feels the need to leave the Philippines to fidn work and encourages other OFWs to enrol in the training.
"I would really prefer to work here because of the benefits, like social security that I did not have before. The work requires not just talking but analyzing, the training really helped me learn and gain these skills. Now I can stay here in my country and be with my family," said Evelyn. "I feel like I am really a mother to my children now."
Written by Minette Rimando
Like what you read? Spread the word.