Ugandan forensic investigators are holding sexual violence perpetrators accountable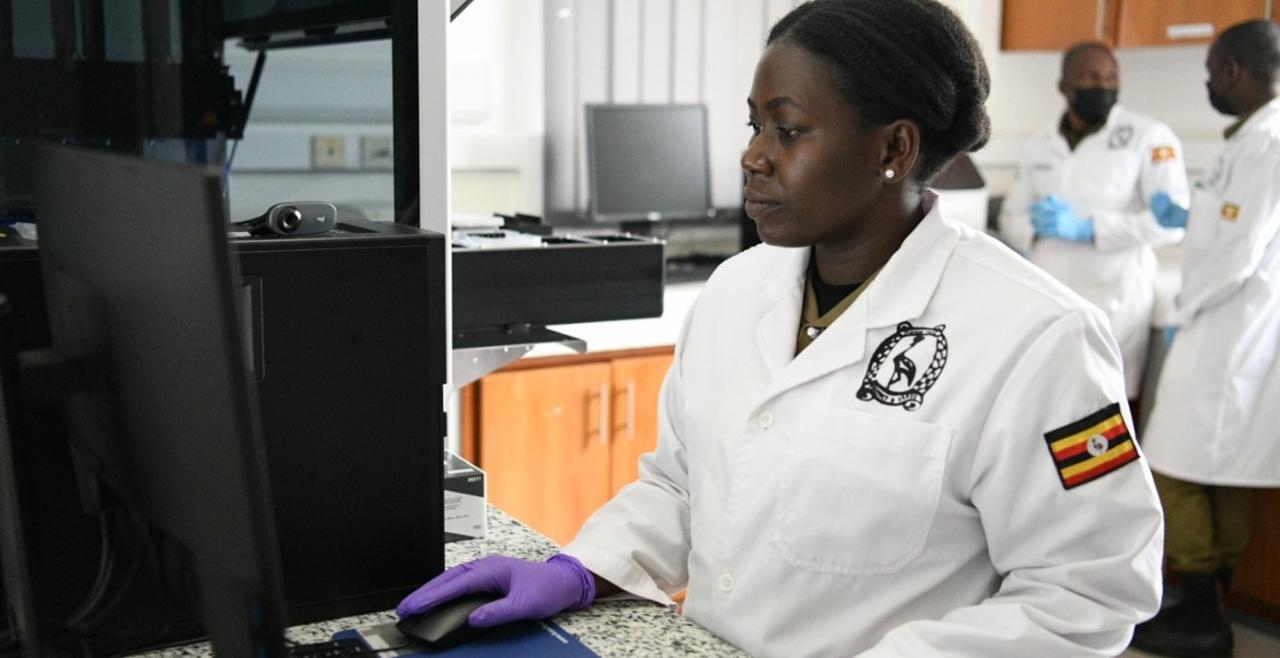 May 22, 2023
KAMPALA, Uganda - One of the most challenging elements of prosecuting gender-based violence crimes is collecting enough evidence to convict perpetrators. Additionally, many survivors choose not to report, fearing the stigma and retraumatization that can take place while seeking justice.
In Uganda, where 50 per cent of women experience violence, the Spotlight Initiative is addressing both these issues by improving the ability of police forensic units to investigate sexual and gender-based violence crimes and to support survivors throughout the process.
The Initiative supported the delivery of three crime scene evidence collection vans (to maintain quality of evidence and avoid degradation of DNA samples), 18 crime scene officer kits, 18 crime scene cameras, DNA consumables (used for processing evidence) and more for use by Police in the investigation of sexual and gender-based violence.
In addition to the equipment, crime scene officers were trained in how to conduct gender-sensitive investigations. 
"I learned how to interview in a trauma informed and victim-centered way," says Regional Crime Scene Officer for Kampala Metropolitan East Area, Emmanuel Ogwang. "I know how to work with investigating officers better and how to submit sexual and gender-based violence forensic evidence to relevant labs."
"Women are reporting more and have developed trust and confidence in police. Forensic evidence speaks for itself, there is no longer this impression that there is need for a witness to the crime on sight," he says.
Prosecuting the use of "date rape" drugs
"This is a new trend in Kampala that is unspoken of because people do not know the procedures here," says Director of Forensic Services Andrew K. Mubiru on the use of narcotics, sedatives and other substances in rapes and sexual assaults.  "In the West there is tons of literature on this, but this is unspoken of in Uganda.
"We need to bring the perpetrators to book. The victims are often university girls, and these men are violating them and their futures. We want victims and survivors to be able to report and know that we have modern chromatographic and mass spectrometry techniques capable of detecting trace amounts of endogenous and exogenous chemical substances in a variety of matrices such as blood, urine and hair," he says.
Doctor Jaffar Kisitu, Head of Forensic Chemistry, describes the liquid chromotagraphy machine as a "game-changer" and trains others in how to use lab technology to detect trace amounts of these drugs.
He explained that the chromatographic machine can provide important evidence to prosecute sexual violence crimes and convict perpetrators. 
According to Mr Mubiru, the turnaround time on case investigation has been greatly reduced, as police now have an in-house DNA processing laboratory in addition to the Government Analytical Laboratory. The cases investigated have seen credible evidence of perpetrators in 70 per cent of cases," he says.
Increasing optimism
Inspector Ogwang notes that the increased capacity to investigate sexual violence has led to a corresponding increase in survivors coming forward.
"When cases occur in a community and a victim gets justice, they share that feedback with the rest of the community, and they are motivated to report similar cases," he says.
He relates seeking justice for a 5-year-old victim of abuse. After the case was successfully prosecuted, one of her classmates came forward to report the same perpetrator. 
"We did a crime scene reconstruction, collected evidence from those locations at the scene as well as clothes (of the perpetrator) for testing," he explains.
"In Uganda, we have sunlight that affects the scene of the crime, but with the training now when we get to the scene, we pay attention to transient elements such as clothing, shoe impressions, palm prints, clothing fibres, hair, smear samples on the surfaces." 
Original text by Eva Noma Sibanda and published on UN Women.
Like what you read? Spread the word.