BRUSSELS, Belgium - On Thursday 5 March, Spotlight Initiative launched #WithHer in Brussels, a digital campaign to raise awareness about violence against women and girls and global efforts to address the issue. The campaign shares the stories of activists from Belgium to Zimbabwe who are working to end violence against women and girls in their communities, engaging new audiences by urging them to donate to women's funds and show support on social media using the hashtag #WithHer.
The event took place at the Bozar Centre for Fine Arts and was moderated by Sky News anchor Gillian Joseph. Guests were invited to post about the campaign via a social media activation zone, while the Bozar gallery displayed portraits of activists and survivors who are working with Spotlight Initiative.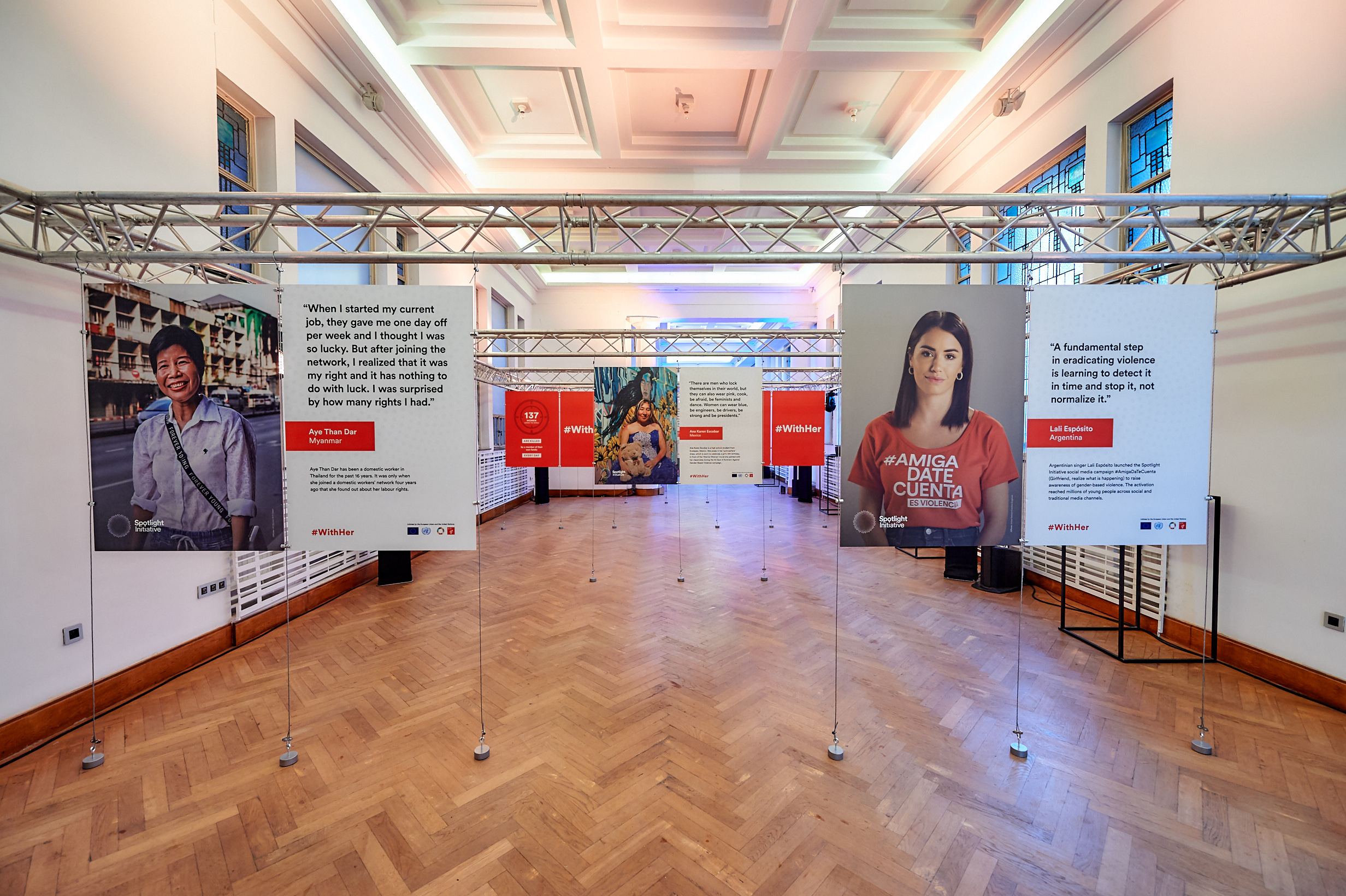 Speakers at the event included European Union Commissioner for International Partnerships Jutta Urpilainen, United Nations Population Fund Executive Director Dr. Natalia Kanem, Anaïs Leleux of French activist organization Nous Toutes, Belgian author and activist Maïté Lønne, Chair of the frontline organization Isala Asbl Pierrette Pape, French Member of European Parliament Chrysoula Zacharopoulou and UN Women Regional Goodwill Ambassador for Africa Jaha Dukureh.
Speaking to a room of influencers, government representatives, journalists and other officials, Ms. Urpilainen reiterated her commitment to ending violence against women and girls around the world under the current mandate of the European Commission. "I would like to invite you all to stand #WithHer, to speak up and make a difference. Help us end violence against women and girls and create a better world for all," she said.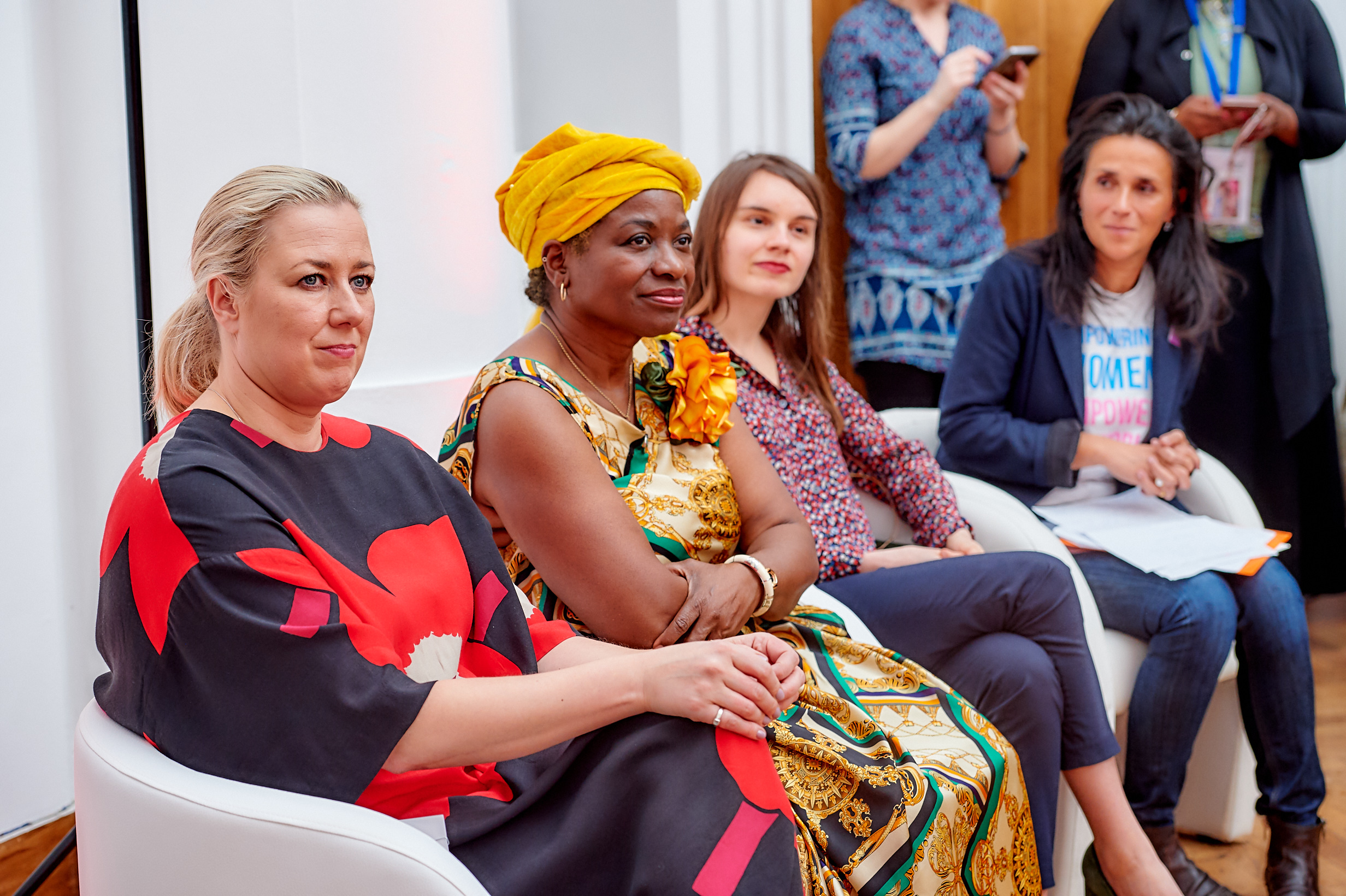 "We need to shine a light on this brutal human rights violation and urgent public health issue," said Dr. Kanem of the epidemic of violence against women. "It must no longer be an unspoken taboo, hiding in the shadows."
Maïté Lonne, a Brussels-based activist and survivor of sexual exploitation who features in the campaign, touched on the importance of listening to survivors and of putting their stories at the heart of policies to tackle violence. "Today, voices are slowly freeing themselves; the victims are coming out of the shadows to dare to tell the unspeakable." She echoed this message in the campaign, saying, "Together we can create something huge".
Ms. Dukureh also spoke about giving survivors a seat at the table and of making space for activists to drive change within their own communities. "Women are not just survivors. They are strong and their potential is enormous," she said. "[Activism] is not just a career to me, it's my life," she continued. "When people say 200 million girls [have undergone female genital mutilation], those are not just numbers."  A survivor of child marriage and FGM, she is the CEO and founder of the NGO Safe Hands for Girls, which provides support to survivors of FGM across Africa.
To find out more about the campaign visit www.spotlightinitiative.org/withher.