Despite significant progress made towards equality, LGBTI people in Timor-Leste still face a higher risk of violence and discrimination from their families, communities and in institutional settings. Below, two Timorese activists explain how the LGBTI community has been impacted by the COVID-19 pandemic and what's being done to ensure that no one is left behind.
Bella Galhos (Pictured above), Head of Arcoiris
"During the state emergency due to COVID-19, [my organization] Arcoiris Timor Leste (ATL) supported the LGBTIQ community by making them aware [of how to protect themselves] and providing them with access to essential items like face masks, sanitizers and hand wash to prevent infection. We also distributed more than 550 packages of food supplies between April and August, while ATL's shelter provided space for members to meet their peers and share their experiences. We created job opportunities - some members were provided temporary work in emergency relief, while ATL also looked for other income generating opportunities to help members in these difficult times.
"The biggest challenge faced by LGBTI people during these times is exclusion from government support. Most of the couples living separately as families have not been included in the definition of Uma Kain (households). The non-recognition of their living status will continue excluding them in the upcoming food basket programmes.
"There is a need for large-scale awareness building on human rights and the use of mass communication to spread non-discriminatory, positive, and inclusive messages. LGBTIQ families should be accepted and included in government-supported programmes. This is important to ensure that the LGBTIQ community exists and is respected. 
"Civil society members must include human rights narration in their activities and programmes. The church plays an important role in Timorese society, so church and other faith-based organizations must support inclusive messages."
Arcoiris ("rainbow" in Portuguese) is an LGBTI organization and shelter that supports members to leave violent situations. Bella Galhos is a member of the Spotlight Initiative National Civil Society Reference Group in Timor-Leste, which provides information, analysis and lessons to inform the Initiative's programming and advocacy.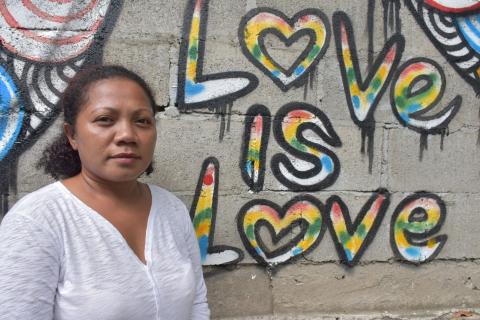 Laura Afonso de Jesus, Executive Director of the Coalition for Diversity and Action, (CODIVA)
"Generally speaking, the community in Timor-Leste is still not fully accepting of the existence of LGBTI people. As a result, access to the job market is a big challenge. This is a categorically vulnerable community. 
"The pandemic has brought on financial issues and affected the ability of LGBTI people to afford their basic needs, especially those who live alone or those who are dependent on others because they have been kicked out of their house. 
"Many LGBTI people make money from catering or cooking at big parties and working in barber shops, but there is no market for those [jobs] during this time. Those who are isolating with their families at home may face increased violence if their identity is not fully accepted. They might be forced to behave in a way that their family expects them to, and if they are against this, it may cause tension and violence."
"It's critical to raise awareness and understanding that this is not simply an individual choice. I believe that once people are more aware, there will be less stigma and discrimination.
"To address this pandemic, everyone needs to come together and treat each other equally."
Ms. Afonso de Jesus is a community activist and is the chief of her aldeia (hamlet), a role rarely held by women. 
Interviews have been edited for length and clarity.
Reporting by Ahmed Saleem.