NAMPULA, Mozambique - Célia Carare, 21, waits at the door of her house wearing a cloth mask. She is expecting a visit from one of the girls she mentors on sexual and reproductive health and rights. 
She used to meet with her mentees for weekly group sessions, but since the Government of Mozambique declared a state of emergency due to COVID-19, they now meet on the phone or one on one at Ms. Carare's house, keeping two metres apart.
Helping girls to understand their sexual health and rights is a mission that's close to Ms. Carare's heart. When she was 18, she was raped but was too shy to tell anyone what had happened. Now, Ms. Carare wants to ensure other young women feel comfortable reporting violence. "I tell others they must speak up if something happens to them," she says. 
"I tell others they must speak up if something happens to them" - Célia Carare, 21
Ms. Carare first learned about the Rapariga Biz mentoring programme when she saw girls at her school wearing branded purple t-shirts and talking about sexuality and rights. They seemed confident and outspoken and she asked about joining the programme but, soon afterward, found out that she was pregnant as a result of the rape. 
After her baby was born, she was invited to become a youth mentor by Coalizão, one of the civil society organizations that implements Rapariga Biz. Ms. Carare underwent training and has counselled 27 girls over the past two years.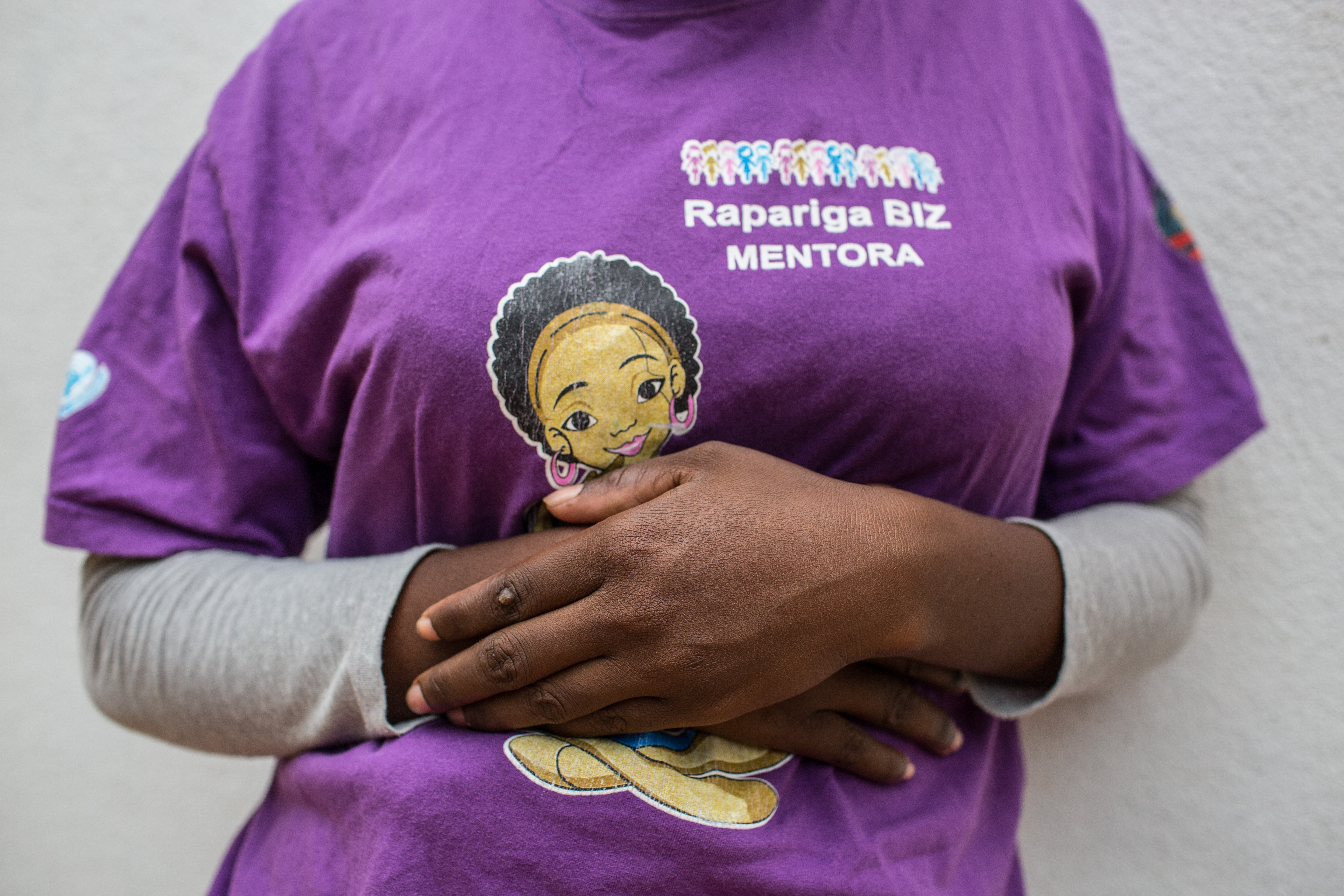 Higher risk of violence but fewer opportunities to report 
Rapariga Biz is a Government-led, joint UN programme that aims to reduce early marriages and teenage pregnancy in Nampula and Zambezia provinces. Among other interventions, the programme trains young women to counsel their peers on sexual and reproductive health and rights, as well as essential life skills. Under the Spotlight Initiative, mentors receive training on gender-based violence.
One in four women in Mozambique suffers from violence and more than a third never seek help. While the country may be faring better than the global average, it is vitally important that girls and women understand their rights and where to access support and services — especially during a pandemic. With schools closed due to COVID-19, girls are at higher risk of violence but have fewer opportunities to confide in someone or report abuse. 
Rapariga Biz mentors typically lead weekly sessions in a safe space such as a school or mentor's home, but the programme has been forced to adapt during the pandemic. "Mentors moved weekly group sessions to phone calls or individual meetings upon request," says Coalizão's Rapariga Biz coordinator in Nampula, Margarida Jeiambe.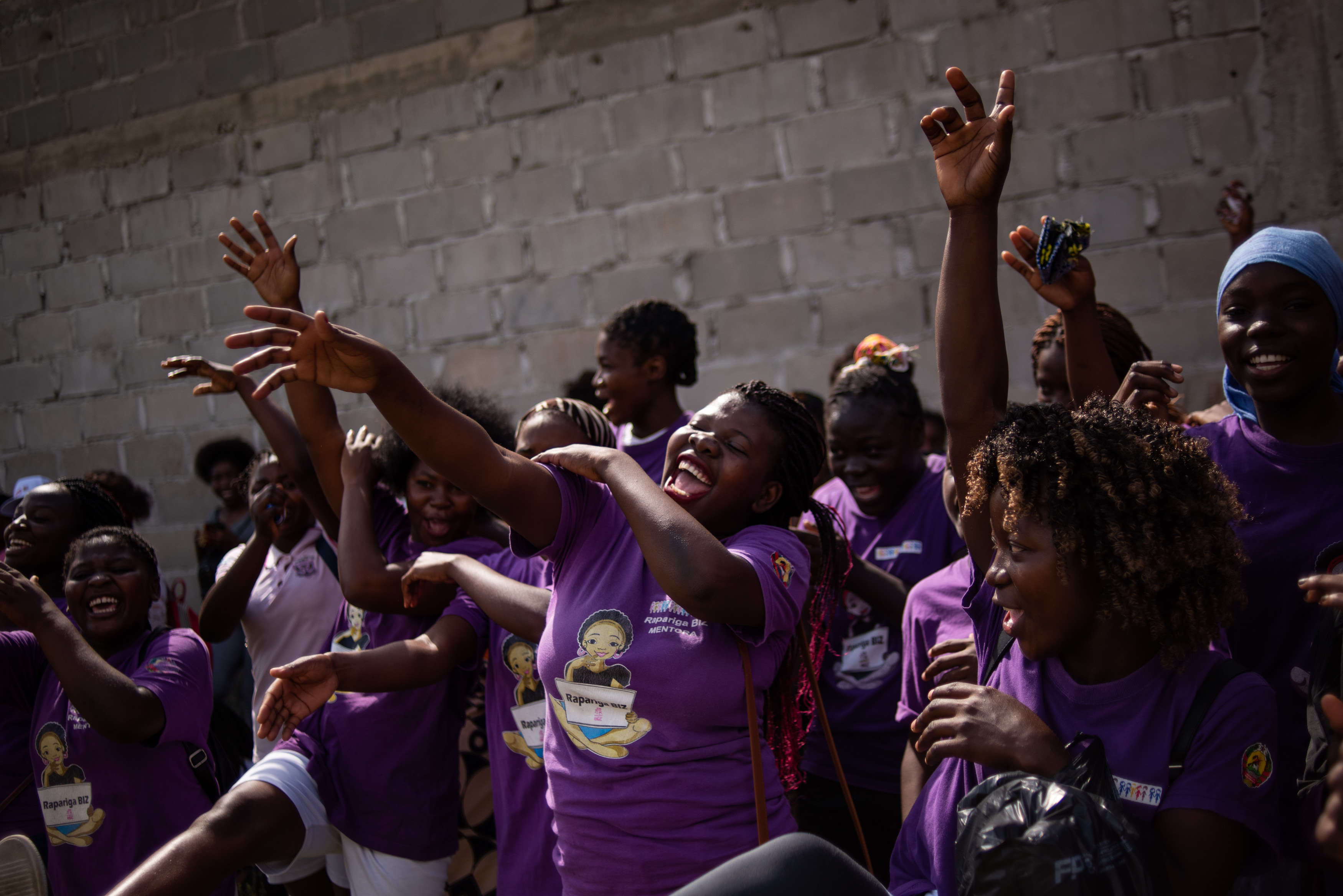 "Teaching vulnerable girls keeps me going"
As mother and student, Ms. Carare leads a busy life but always finds time to keep up the sessions. "Teaching vulnerable girls about their sexual and reproductive rights keeps me going," says Ms. Carare. 
When unsure about a topic, Ms. Carare texts SMS Biz - a peer-to-peer counselling platform - where she can get information about sexual and reproductive health in real time using her cell phone. 
To reach an even wider audience, a mentor-led radio programme, Rapariga Biz on the Radio, was launched in May with Radio Moçambique. It focuses on gender-based violence, sexual and reproductive rights, and the services available to young women in both Portuguese and the local Makua language. 
Since the programme began in 2016, Rapariga Biz has trained 5,600 mentors and reached 699,000 girls and young women. The Spotlight Initiative is adopting Rapariga Biz's mentorship approach and replicating it in Gaza and Manica provinces.
Rapariga Biz is a Government-led UN joint programme implemented by UNFPA, UNICEF, UN WOMEN and UNESCO. It aims to reach one million vulnerable girls and young women in Zambezia and Nampula provinces on sexual and reproductive health and rights, leadership, empowerment, citizenship and human rights, with the goal of preventing early marriages and teenage pregnancy. The initiative is funded by the Embassy of Sweden and the Government of Canada.
By Leonor Costa Neves