Spotlight Initiative celebrates 16 Days of Activism around the world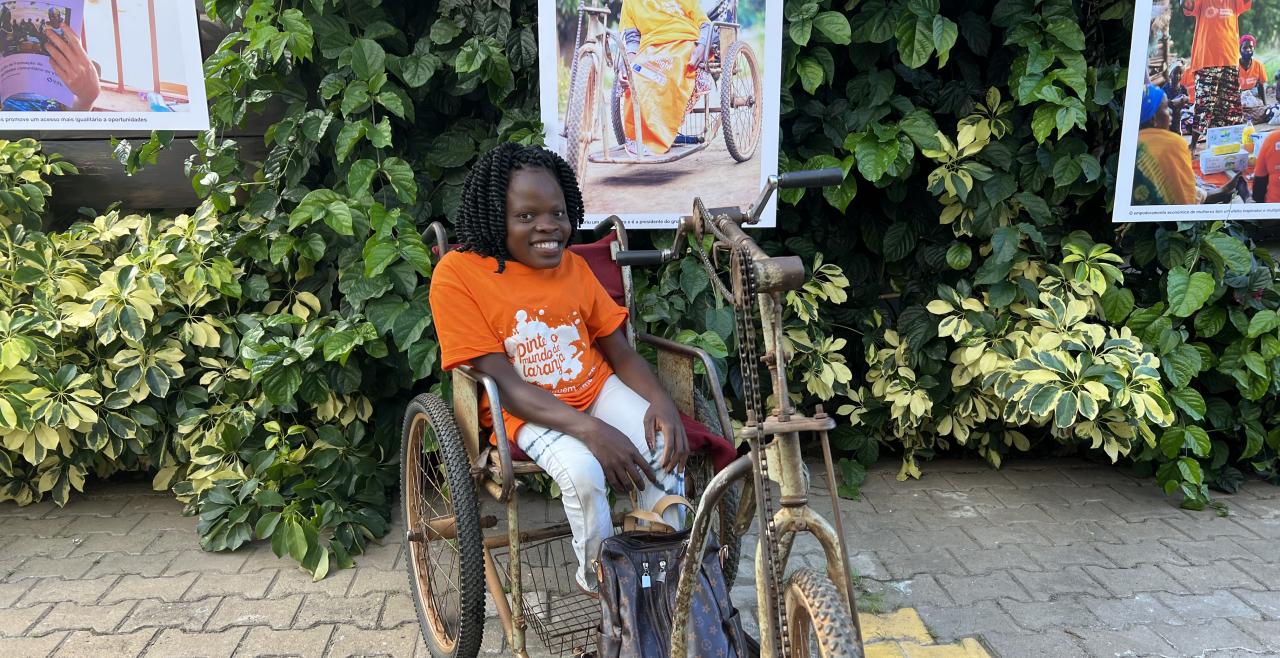 December 21, 2022
The 16 Days of Activism against Gender-Based Violence is an annual international campaign that kicks off on 25 November, the International Day for the Elimination of Violence against Women, and runs until 10 December, Human Rights Day.
The Spotlight Initiative and its partners around the world organized campaigns and activities to raise awareness of violence against women, and support the tireless efforts of the women and men working to make gender-based violence history.
AFRICA REGIONAL PROGRAMME
Spotlight Initiative's Africa Regional Programme (SIARP) launched a human-centred campaign that amplifies the voices of women and girls in Africa who experience gender-based violence (GBV), along with a series of video messages.
ARGENTINA
Argentina launched a social media campaign #EsPosibleUnaVidaSinViolencia (A life without violence is possible) that invited survivors and activists to share their own experiences of gender-based violence and discrimination. The campaign called attention to the many different forms that violence can take, and the unique experiences of women and girls who face multiple and intersecting forms of discrimination, including an Afro-descendant woman, a woman living with HIV, an indigenous woman, a woman experiencing economic hardship and a blind woman.
Watch one of the stories below:
CARIBBEAN REGIONAL PROGRAMME
A series of events, meeting and dialogues took place with the aim of enhancing engagement with civil society organizations, and a lighting ceremony was held as the CARICOM Building was illuminated in orange to celebrate the 16 Days.
CENTRAL ASIA
The Central Asia Regional program worked with five TikTok influencers from across Central Asia to create content addressing gender-based violence, stereotypes, harassment, and discrimination. The influencers included ruhsoraemm (Uzbekistan), stengiee (Kyrgyzstan), rafaelgulov (Tajikistan), alisher.gulamov (Turkmenistan), shahrizada_s (Kazakhstan). "I wanted to support this initiative, as the problem of gender-based violence is very relevant in our region," said Alan Dyusheev (@stengiee). "I have about 4 million followers on TikTok and I think it's a responsibility to speak [about these issues] to such a large audience."
All videos can be viewed through the hashtags #CentralAsiawithHER #IDEACA #SpotlightCA and were created with support of IDEA Central Asia.
ECUADOR
On Friday, 2 December, the Spotlight Initiative hosted the national, inter-agency Living Free From Violence Forum. It brought together the United Nations, the European Union, national and local government authorities, civil society organizations (CSOs), academics and media to share knowledge, experiences and practices from the past two years of implementation. It also published a series of Facebook and Instagram stories which aim to reduce gender-based violence and discrimination in educational settings. 
Watch some highlights from the forum below: 
EL SALVADOR
On November 25, the Initiative hosted a conversation between civil society activists, the UN and the EU to learn about the experiences of the of young women who have participated in the Initiative.  Guests included Resident Coordinator of the United Nations El Salvador Birgit Gerstenberg; Political Advisor of the European Union in El Salvador, Borja Garcia; the Director of Instituto Salvadoreño para el Desarrollo de la Mujer (ISDEMU) Maria Lilian Lopez; Gabriela Lopez, a participant of the Much More Beat programme; Nayeli Torres, a teenager involved in violence prevention programming in schools; Carolina Vásquez, a blind woman and leader who has helped the Initiative to better reach and include women with disabilities; Catalina Ayala, an advocate for trans and LGBTIQ+ rights and Aurora Cubes, from the Spotlight Initiative.
HAITI
Haiti used a mix of documentary videos, human interest stories, television spots, social media elements and op-eds in national newspapers to draw attention to the prevalence of gender-based violence and the stories of individual survivors with the goal of raising awareness of the issue and showing support for survivors.
MEXICO
In Mexico, the Senate and the Spotlight Initiative convened the high-level event "Agenda to address femicide violence in light of the Committee on the Elimination of Discrimination against Women (CEDAW) Report". The event honoured the lives of femicide victims and the tireless struggle of their families for justice by promoting legislation and urgent action at the federal and local level to eradicate femicide. It also launched a social media campaign called "ConEllas" (WithThem) with participation of more than 50 relatives of victims and survivors of femicide, activists, human rights defenders, feminists and public servants.
MOZAMBIQUE
In Mozambique, the Spotlight Initiative organized the photo exhibition "NO to Violence against Women and Girls" in the country's capital, Maputo. Taking place across three freely accessible cultural centres, the main themes of the exhibition were: female economic empowerment, awareness-raising campaigns and positive masculinities. The launch of the exhibition was attended by high representatives of the Spotlight Initiative.
The Spotlight Initiative supported all the launch ceremonies and "Spotlight Initiative caravans" in its 13 implementation districts, where events such as the inauguration of Integrated Care Centres, workshops, conferences, theatres and knowledge products launches were included. 
NIGER
In Niger, activists working to end violence against women and girls shared their vision for a violence-free Niger, and why men need to join the push to gender-based violence. 
REGIONAL PROGRAMME FOR CENTRAL ASIA AND AFGHANISTAN
A youth debating tournament was held with support from IDEA CA (International Debate Education Association Central Asia), a regional youth-led organization which is leading the establishment an informal regional alliance of youth organizations, along with a  series of awareness raising events that included a film screening, press conference on the programme's results, a series of human interest stories and conferences for student on the elimination of violence against women and girls.
SAFE AND FAIR
Safe and Fair created a Future of Work podcast examining how migrating for work can give people with diverse sexual orientations, gender identities and expressions (SOGIE) the chance of a better life, as well as some of the challenges they face and how they can be better supported.
TRINIDAD AND TOBAGO 
The Initiative launched a campaign of public service announcements that support positive norms and prompt reflection on the harmful norms that drive violence against women It also collaborated with Trinbagonian media house Guardian Media for "16 Days of Conversation". This series of articles focused on the work of activists, survivors and UN agencies to end violence against women and girls.
UGANDA
In Uganda, multiple events were held throughout the 16 Days. Parliament was lit in orange and a press conference was held highlighting gender-based violence. A thought-provoking exhibition entitled "What I Was Wearing" featured 16 mannequins dressed in the clothes that were worn by 16 Ugandan survivors of sexual violence at the time they were attacked. This aimed to subvert victim-blaming attitudes towards women's dress and behaviour. A series of videos with sign-language went live on social media and national television, and local events included marches of at least 300 people each in the towns of Gulu, Kotido and Moroto.
ZIMBABWE
A number of high-level events and panel discussions were held at Harare Gardens, which included musical entertainment and a GBV marketplace that allowed GBV service providers to share information on referral pathways and the services available to survivors. The event was  broadcast by local radio station StarFM for greater reach and visibility. 
In the period leading to the 16 Days of Activism, a competition invited young people to create art, music or a short story on the theme of "Collective responsibility for GBV: What are you doing to eliminate Gender Based Violence?" Ten winning entries were showcased at an awards ceremony.
Like what you read? Spread the word.