Joint Op-ed by Her Excellency Rosa Malango, UN Resident Coordinator in Uganda, and Oliver Namusabi, Executive Director Hope for Children in Amudat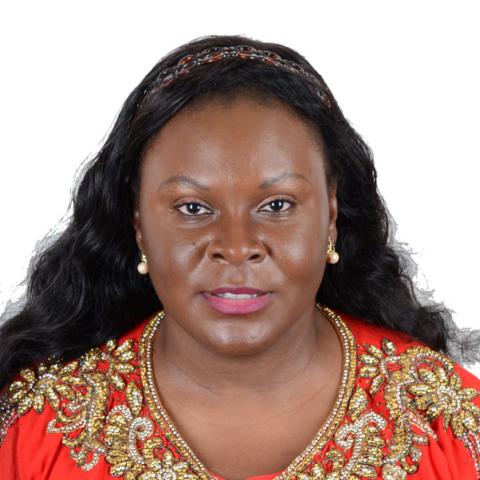 Among the people of Pokot in Karamoja region in the North-Eastern part of Uganda, the role of men and women, boys and girls are culturally well defined. Women and girls perform household activities, take care of children and do gardening, while men and boys take care of livestock. As a result, patriarchal norms and values continue to sustain gender-inequality and in so doing, suppressing the rights of the region's most valuable resources: women and girls.
During my recent mission to the Karamoja region, I was honoured to meet one brave woman among the Pokot who is changing this narrative. Born and raised in Amudat district, 28-year old Oliver Namusabi, who is a mother of a son, is supporting her community to end violence against women and girls through her organization, Hope for the Children Foundation, which she established in 2013. As a young girl, Oliver was sponsored by missionaries from Holland who enabled her to attend secondary school and university in Kampala. This act of kindness shown to her planted a seed in Olivers' heart to help others in need especially her people. Upon completing her studies, Oliver returned to Amudat, raised UGX 700,000 from her mother and friends, registered her organzation at the district headquarters and sponsored 10 children (nine girls and one boy) to go back to primary school. Today, the Hope for the Children Foundation organization sponsors 102 children, 62 of whom are girls, from primary school to university level with funding from Child Care Africa. This is an inspirational story of transformation and the significant impact of individual action.
In 2019, Oliver was called for a meeting by the Amudat District Community Development Officer asking her to support 31 girls who had fled from forced marriages and had nowhere to go. Since she did not have space to accommodate them, Oliver approached the management of the Kalas Girls Primary School to provide space and become a temporary rescue shelter which to this date remains open to survivors of gender-based violence. They were able to help as schools remain closed due to national efforts to curb the spread of COVID-19. The shelter receives girls facing all forms of abuse in their homes and communities.
During the COVID-19 lockdown the numbers of cases of violence against women and girls reportedly increased. It is important to note that this violent pandemic had begun before COVID-19. According to the Uganda Demographic Household Survey 2016, half of Ugandan women have experienced physical violence and 46 per cent of women live in fear of their current or most recent partner. This situation has been exacerbated by the COVID-19 pandemic and restrictive public health measures. Reports from the 13 National Gender-Based Violence Shelters indicate that cases of gender-based violence have increased by 153 per cent between January and June 2020 compared to the period between July and December 2019. The UN's report on the socio-economic impact of COVID-19 revealed that national poverty rates could rise between approximately two and eight percentage points, with disproportionate impact on women, elderly persons, refugees, youth and other vulnerable and marginalized groups. All of this has negative implications on Uganda's economy. A 2012 report by Center for Domestic Violence Prevention (CEDOVIP) estimated the annual cost of domestic violence in Uganda at UGX 77.5 annually in expenses and lost profits, imagine the economic impact of the rise of gender-based violence this year. 
The 16 Days of Activism against Gender-based Violence (from 25th November  to 10th December) avail a platform for we the people of the United Nations to engage the Government of Uganda and all stakeholders to promote a comprehensive approach that protects women and girls from violence. The United Nations through the EU-UN Spotlight Initiative and other joint programmes on gender-based violence is committed eliminating violence against women. 
This approach includes laws, provision of services that are accessible to all survivors, including medical and psychological support, housing, jobs, protection of livelihoods and legal advice. It also includes a response that tackles education, economic development, governance, and institutional arrangements to prevent violence. As these 16 Days of Activism against Gender-based Violence come to an end, we wish to invite each one of you to make a personal pledge to eliminate violence, to discourage negative behaviour, to replace abusive language and to empower at least one women and one girl in your surroundings. We cannot achieve sustainable development if we do not strive to leave no one behind. The African philosophy of Ubuntu calls on us to respect our shared humanity. Oliver in Amudat is evidence that each one of us can make a difference. The African Charter on Human and Peoples' Rights (also known as the Banjul Charter) is an international human rights instrument that is intended to promote and protect human rights and basic freedoms in the African continent. We have the laws, policies and strategies. It is now time to act. This is after all the last Decade of Action for the implementation of the Sustainable Development Goals.