ABUJA, Nigeria - Safinatu Ibrahim dropped out of school in 2004 when she was still in primary school. Her parents could no longer afford the fees, so she began helping her mother at the family restaurant where she served customers. She didn't enjoy it - male customers would often gawk and make passes at her.
In 2020, a neighbour told her about accelerated second-chance education, which aims to equip women and girls who were unable to finish school with the skills they need to return to formal education. Now a graduate, the 20-year-old is committed to continued learning. "My dream is to go back to school," she says.
"My dream is to go back to school." - Safinatu Ibrahim, Second Chance Education graduate
Aisha Adaba, 25, was in a similar situation. She'd never had the chance to go to school and at the age of 18, she was married off. To care for her two children, she sold roasted fish in her community. This made her vulnerable to verbal abuse from men, who were her main customers. After a customer tried to rape her, she was too afraid to continue her trade.
Like Safinatu, she heard about Spotlight Initiative-supported learning and enrolled.
"This is my second chance," she said. Aisha never missed a class and now that she's able to read and write, she's making plans to return to school.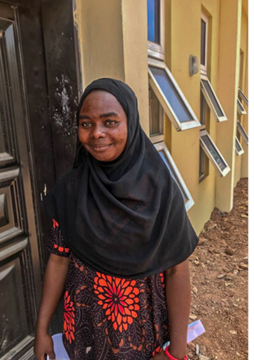 Every girl deserves an education
Aisha and Safinatu represent just two of the many children and young people around the world who have been unable to complete their education. In fact, there are 10.5 million children out of school in Nigeria, according to UNICEF. When girls are out of school, it increases their vulnerability to early marriage, violence and other harmful practices.
The Spotlight Initiative, through UNESCO, launched the Accelerated Second Chance Education Programme right before the onset of COVID-19 last year. While the pandemic meant many girls were unable to attend school in person, the programme ensured that women and girls were able to keep learning remotely via radio. 
The programme offers basic literacy skills; sexual, reproductive health and rights (SHRH) education; and teaches women and girls how to spot violence and where to seek help.
"The plan is to mainstream learners into formal education after building this foundation." - Cynthia Obazee, National Coordinator of GESA
"The plan is to mainstream the learners into formal education after building this foundation," said Ms. Cynthia Obazee, the National Coordinator of Grassroots Entrepreneurship Skills Acquisition Initiative (GESA). GESA is the organization that enrolls women and girls into second-chance learning in states where Spotlight Initiative is being implemented.
Today, more than 6000 women and girls across six area councils in Abuja have completed the 6-month learning programme. Many were awarded certificates to mark the achievement on International Women's Day. The graduation ceremony brought together partners from government organizations, traditional leaders, civil society organizations, and representatives from the United Nations. 
Executive Chairman Abuja Municipal Area Council, (AMAC),  Hon. Abdullahi Adamu Candido, emphasized the importance of women acquiring an education.
The Programme Manager of Spotlight Initiative from UNESCO Nigeria, Steven Onyekwelu, called on all of society to ensure that women and girls are able to reach their full potential.
By Judith Owoicho