In Nigeria, community volunteers are helping to report gender-based violence and support survivors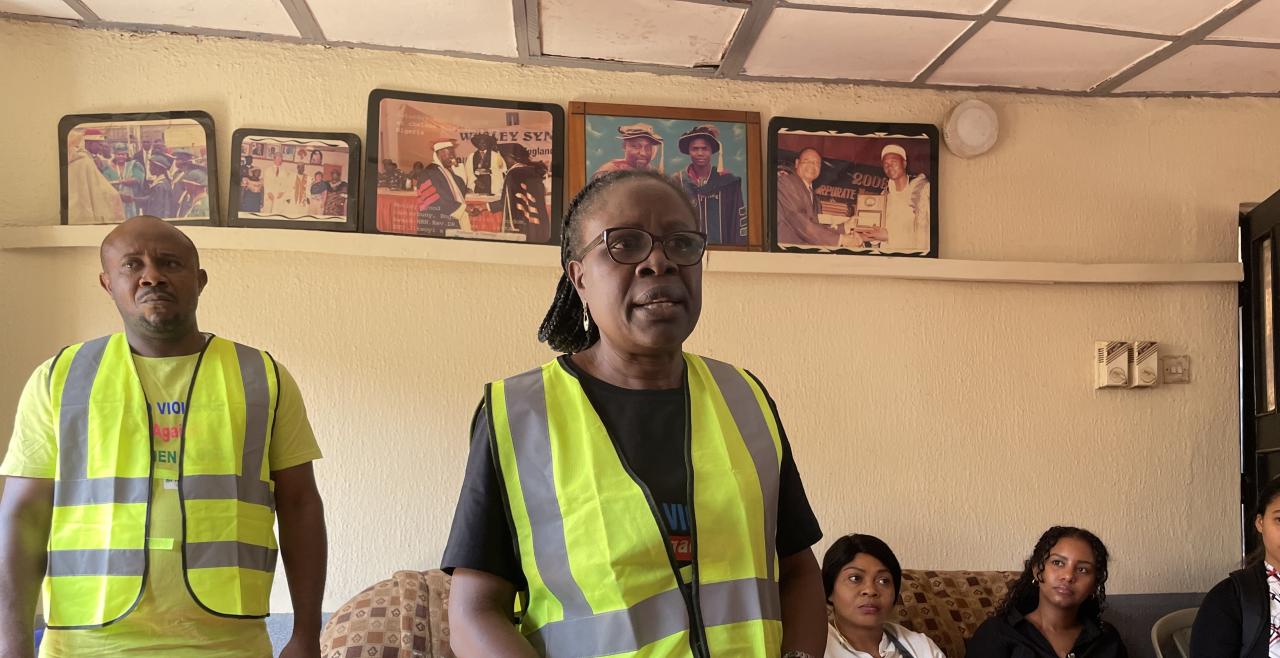 March 28, 2023
JIKWOYI, Nigeria - Bawa Pius Emmanuel, 20, is a youth volunteer with the gender-based violence (GBV) surveillance team in the community of Jikwoyi, a rural area around 30 km east of Abuja. An estimated 33 per cent of Nigerian women experience physical or sexual violence, according to the 2018 National Demographic Health Survey (NDHS) – but people like Mr. Emmanuel are determined to change that.
"When you empower a woman, you empower a nation." - Bawa Pious Emmanuel, 20
He is one of the 10 volunteer community members who devote their time to talking to others about gender-based violence and supporting women and girls experiencing violence by helping them to access the services they need.
"My love for humanity, especially for my sisters, has led me to become an active member of the community GBV surveillance team," says Mr. Emmanuel. "When you empower a woman, you empower a nation."
He spent several months training with the Spotlight Initiative GBV surveillance team before speaking with GBV survivors and vulnerable groups in approximately eight schools across the region. During this time, he reached more than 5000 young people, women and girls with the message that violence against women and girls is not normal and that perpetrators should be held responsible. Critically, he urges other members of his community to view ending violence as everyone's responsibility. 
He says that there has been a significant reduction in the culture of silence, with people now speaking up and reporting GBV cases to the team. One of Mr. Emmanuel's friends has even founded another community-based initiative that uses training and advocacy campaigns to engage young people in the fight against harmful practices and gender-based violence.
"Let us join our voices to end violence against women and girls and make our desired nation a reality." - Rev. Dr. Bawa S Jetta, Jikwoyi traditional ruler
In fact, the entire community, from leaders to religious bodies and individuals, have got behind the push to end GBV, child marriage and female genital mutilation.
"When a home is unhappy, the society is unhappy and at war, but when a home is happy, the society is happy," said Chief Michael Joshua.
This whole-of-society approach is important to sustain long-term change. While the surveillance team began with funds from Spotlight Initiative in 2019, it continued in 2022 even after funding ended due to the commitment of the community. The volunteers continue to meet monthly with communities to discuss issues and solutions, also providing an opportunity for people to approach them after the session one on one. 
"Let us join our voices with Spotlight Initiative, the Nigerian government, civil society organizations and volunteers to end violence against women and girls and make our desired nation a reality," said Rev. Dr. Bawa.S. Jetta, Jikwoyi Community's traditional ruler, during the spotlight team visit to the community. 
"Whether or not the Spotlight Initiative remains in Nigeria, the knowledge I've gained has  changed my life and I will continue to give back to society," said Mr. Emmanuel.
By Aniekan Bassey Udo
Like what you read? Spread the word.