!Ni una más! A mother's call for justice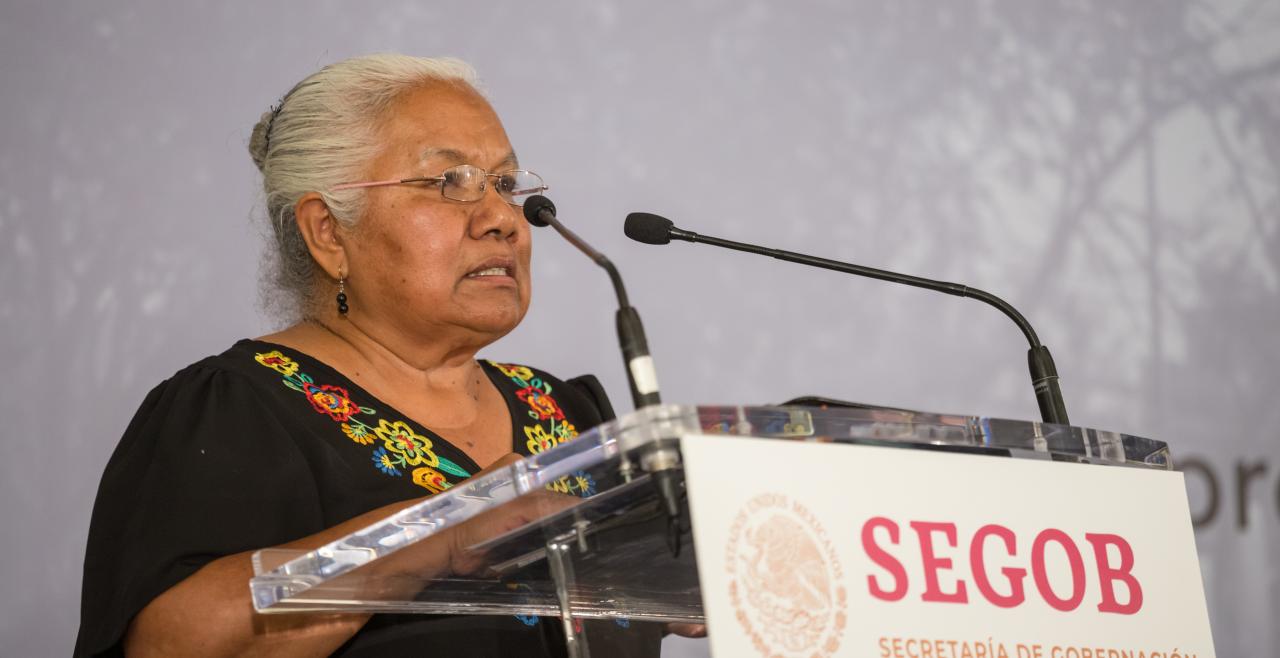 May 29, 2019
MEXICO CITY, Mexico - "Nine years ago, my daughter Mariana was murdered and my life changed forever," said Irinea Buendía. "I never imagined that I would experience such great pain. And above all, I never thought that access to justice would almost cost us our lives." Ms. Buendía's testimony of her six-year struggle to have her daughter's murder reclassified as a femicide was a highlight of the Spotlight Initiative launch in Mexico, where a $12 million investment to end femicide was announced. 
Twenty-nine-year-old Mariana was killed by her husband in 2010. Her husband — a police officer at the time — falsified evidence to ensure her death was classified as a suicide. But Irinea Buendía, Mariana's mother, knew her daughter did not take her own life.
"We will never get our daughters back. We deserve justice. It is the minimum we should get." - Irinea Buendía
Ms. Buendía's plight to seek justice changed Mexico's judicial system forever. "At the time, the authorities tried to make us believe that Mariana committed suicide," Ms. Buendía said. "My family had to become investigators, detectives and defenders of the human rights of our daughter and of all of Mexico's women and girls." 
In March 2015, the National Supreme Court of Justice issued the "verdict of Mariana Lima Buendía." The ruling established the fundamental requirement that all violent deaths of women must be investigated with a gender perspective to prove whether the murder was a femicide. "We will never get our daughters back," said Ms. Buendía. "We deserve justice. It is the minimum we should get."
Ms. Buendía's testimony profoundly moved the audience at the Mexico launch of the Spotlight Initiative, which took place at the Secretariat of the Interior in Mexico City on 29 May 2019.
In Mexico, the Spotlight Initiative is focused on preventing and eliminating femicide, as well as all forms of violence against women and girls.
Commitment from the president
Earlier in the day, President of Mexico Andres Manuel Lopez Obrador dedicated his morning press conference to the launch. In his statement, Mr. Obrador announced the $12 million investment to eliminate all forms of violence against women and girls in states of Chihuahua, Guerrero, and the State of Mexico. "We are determined to improve the participation of women in all areas of public life and guarantee their rights through the prevention of violence and discrimination," said Mr. Obrador. "This will be the hallmark of our government."
A multilateral partnership
At the launch, Secretary of the Interior of Mexico Olga Sánchez Cordero, UN Women Executive Director Phumzile Mlambo-Ngucka, General-Director of International Cooperation and Development of the European Union Commission Stefano Manservisi, representatives from civil society organizations and activisits reaffirmed their committement to ending violence against women and girls. 
In his remarks, Mr. Manservisi noted that femicide and sexual violence against women is a flagrant violation of human rights. "Through the Spotlight Initiative, the partnership between the government of Mexico, the EU and the UN to end femicide is being reinforced," said Mr. Manservisi. "We will mobilize all forces to guarantee that the Initiative materializes with concrete results." 
UN Women Executive Director Phumzile Mlambo-Ngucka highlighted the primacy of multilateralism to eliminate gender-based violence across the globe. "Because Mexico realizes the leadership it has towards itself and the world, and because Mexico is committed to multilateralism, we know that the advancements that we will make here will be shared with the rest of the world and that all of us will benefit from your successes," said Ms. Mlambo-Ngucka
Noted human rights activist and journalist Lydia Cacho expressed her desire for all of Mexico's women and girls to live free from fear and violence.  "Mexico must not be a country where girls and women fear for their lives as they walk the streets," said Ms. Cacho. "Women and girls must be supported when they report violence."
A Comprehensive response
Spotlight Initiative interventions in Mexico will provide localized responses to ensure policies and laws are enforced and institutions — including the justice system — are strengthened. The Initiative will also engage the media and private companies in violence prevention, improve the availability of quality services, provide data and the support the country's vibrant women's movement.
Through activism, determination and tireless advocacy, mothers like Ms. Buendía have brought the world's attention to ending all femicide. Spotlight Initiative will support their efforts to ensure no other mother has to experience the devastating murder of a daugther because of her gender.
"We will fight every day and we will continue until our last breath," said Ms. Buendía. "Until we get justice for our daughters, for us and for those who come after us. !Ni una más! (not one more)."
Watch the replay of the Mexico launch event.
Like what you read? Spread the word.