BANGKOK, Thailand - Invisible, exploited, abused, silenced. These are just some of the words used by women migrant workers to describe their working conditions. Fortunately, some women do find employers who support and protect them in their migration journey, as was the case for 33-year-old Namwaan*.
 
Namwaan left Myanmar in 2003 to pursue a better life in Thailand. The first job that Namwaan found was in a textile factory. She recalls working long hours for little income. "I had to work 12-16 hours per day for only 70 baht ($3)." As Namwaan didn't read or speak Thai, she was not able to negotiate her working conditions and she feared she'd be punished by her employer if she tried to speak up. "Some of my colleagues were harassed, locked up, or faced physical abuse when they spoke up about their working conditions," she says.
 
With her sister's help, Namwaan left the factory to work as a domestic worker. She found a position in a household where she felt safe, valued and respected. "My new employers gave me a contract that explained my scope of work, including my working hours, wages and holidays. Most importantly, I was able to support my family".
"Some of my colleagues were harassed, locked up, or faced physical abuse when they spoke up about their working conditions." - Namwaan*, 33
A few months ago, Namwaan's employers showed her a social media video about Spotlight Initiative's Safe and Fair programme. "My employer thought that it could be useful for me to watch the video. They were right, I felt totally connected to the migrant women's stories," she says.
Working together for a safe and fair future
 
When Namwaan started her migration journey, information on migrant workers' rights was not readily available to Burmese migrants. "At that time, my sister, who was already working in Thailand, was the only source of information I could rely on," she says. 
Safe and Fair, the European Union and the United Nations are working in close collaboration with ASEAN governments and civil society organizations to provide women and girls with the information they need to prepare to migrate safely and receive support while they are abroad. "I am glad that we are not forgotten and that there are people working to help us realize our rights and opportunities," says Namwaan.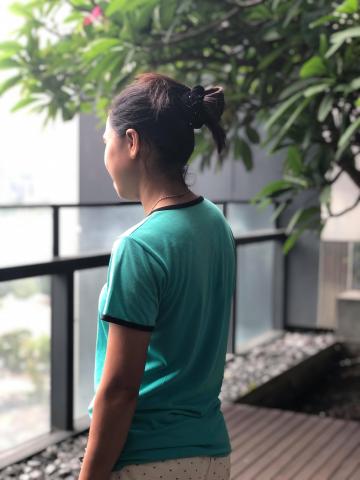 In the ASEAN region, 20 per cent of migrant workers are domestic workers. Eighty-three per cent are women. Safe and Fair aims to strengthen labor migration governance and develop gender-responsive approaches to end violence against women migrant workers.
 
Through awareness-raising campaigns, support desks in airports and training for service providers, the programme addresses a multitude of risks faced by women migrant workers in the region. "Millions of women migrant workers will benefit from the programme. This gives us hope that we will all be able to have access to decent work free from violence," says Namwaan.
*Names have been changed.
By Pichit Phromkade