"I'm not running anymore" - How economic empowerment is breaking the cycle of violence in Jamaica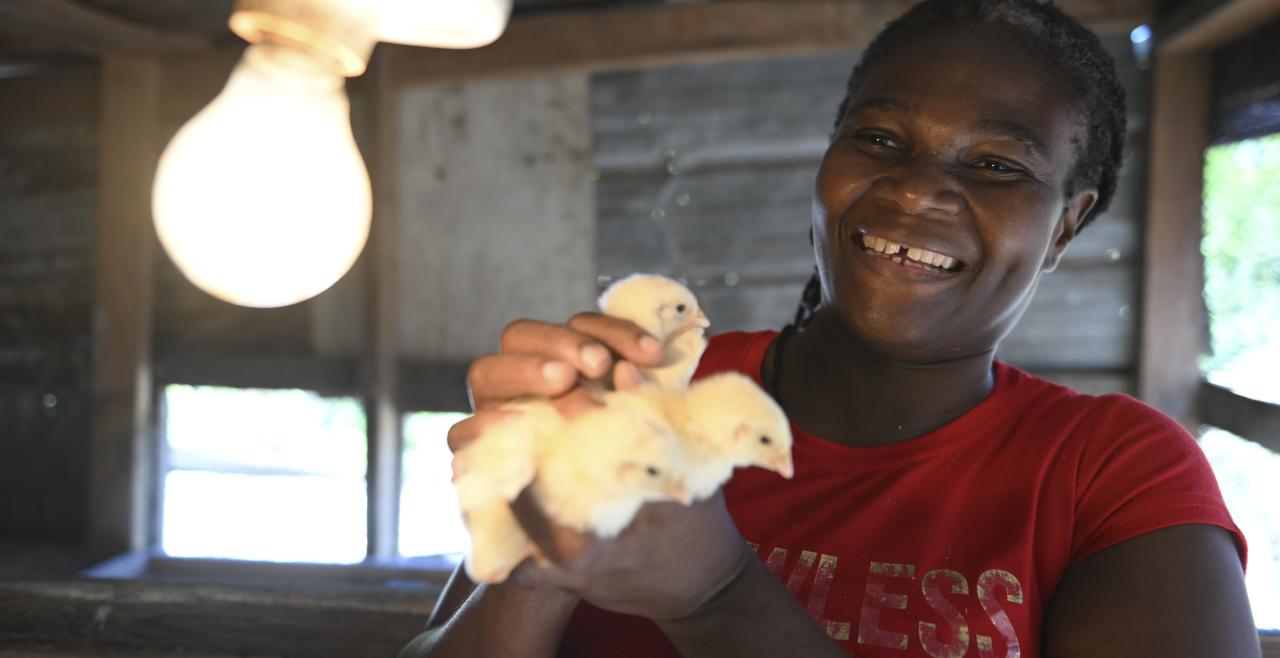 August 14, 2023
ST THOMAS, Jamaica - Fluffy chicks skip across Shelly-Ann Crossdale's toes, as she stands in a corner of her chicken coop reading lines from a book she has been writing for years. The page of the blue exercise book marked 'My Life's Story' is illuminated by a single bulb.
Ms. Crossdale is a chicken and cash crop farmer making a living in the hills of St Thomas with four of her six children and her partner. She farms and sells chicken meat, coffee, cucumber, corn and tomatoes on three plots of land.
The book she is writing brings back a lot of memories, both good and bad. 
"I was sexually abused from when I was five," says Ms. Crossdale. "I was on my own from about age 14, boxed [moving around without support] from one place to the other, [experiencing] every abuse you can think of."
While still a teenager, she lived with a violent boyfriend who was also the father of her baby. One day, as he chased her through the house with a screwdriver, she told herself, "Mi nah run no more" [I'm not running anymore]. When he stabbed at her with the screwdriver, she stabbed him back and ran for her life without looking back.
Charged with murder
Frightened and alone, the 17-year-old hid in a gully before begging a neighbour to let her hide her in a backyard shed. She was discovered by an angry mob that kicked, shoved and cut her.
It was the sister of her boyfriend who then informed her: "He's dead".
"I fainted," says Ms. Crossdale. 
She was charged with her boyfriend's murder and spent five months in the remand centre, where she discovered she was pregnant with her late boyfriend's child.
She was finally released thanks to a life-altering intervention. The entire attack had been witnessed by her boyfriend's son. "His son spoke on my behalf, and [told the court] it was self-defence," she says. "The case was dismissed, and I did not get any sentence."
Two years later, after sleeping on friends' couches and taking odd jobs to support herself and her family, she was offered a place to stay with her grandparents.
She saved some money and used it to buy 50 chickens and materials to build a coop. "That helped my kids through high school," she says, but theft caused the business to run down and profits to dwindle.
A new start
Ms. Crossdale heard about a Spotlight Initiative-funded business and life skills training programme aimed at supporting domestic violence survivors. She enrolled with the hope of growing her business. "I told them [my vision is] to extend the chicken business, do my cash crops and get a vehicle where I can get to distribute," she says.
The women's economic empowerment programme is implemented by the United Nations Development Programme (UNDP) Multi Country Office in Jamaica in partnership with municipal corporations in Clarendon and St Thomas.
Eighty survivors like Ms. Crossdale completed the training with the goal of increasing their financial independence. Studies show that economic insecurity is one of the key reasons why women remain in or return to a violent situation, so financial security is a critical step to break the cycle of violence.
With financial support from Spotlight Initiative, Ms. Crossdale purchased 250 chickens, and spray pans to fertilize crops and seeds – an important resource for women farmers who account for only 32 per cent of registered farmers in Jamaica.
"It helped me a lot," Ms. Crossdale says of the grant. "With 250 chickens, I got 500 and 600 pounds of chicken meat. Before, I harvested on average 200 pounds of chicken meat."
Ms. Crossdale says she was most impressed with the business planning guidance and budgeting training, which is helping her to assess her true earnings from her business. "I never knew (for example) that you should deduct costs for phone cards and taxi fares used in the business. So, it helped me a lot to kind of understand how to run the business and make the business productive," she says.
Looking forward
Ms. Crossdale continues to expand her horizons. "One of the things I achieved which I can be proud of is that I sent myself to nursing school and got my diploma in practical nursing," she says. "My children say, 'mummy mi proud of you. You never give up.'"
She has words of encouragement for other women experiencing violence: "Don't give up... Even now, I tell myself I'm not finished yet... I'm going to move on to either enrolled nurse or registered nurse. I'm not stopping." 
Like what you read? Spread the word.