"Don't give up, look for support" - assisting women and girls with disabilities to escape violence in Tajikistan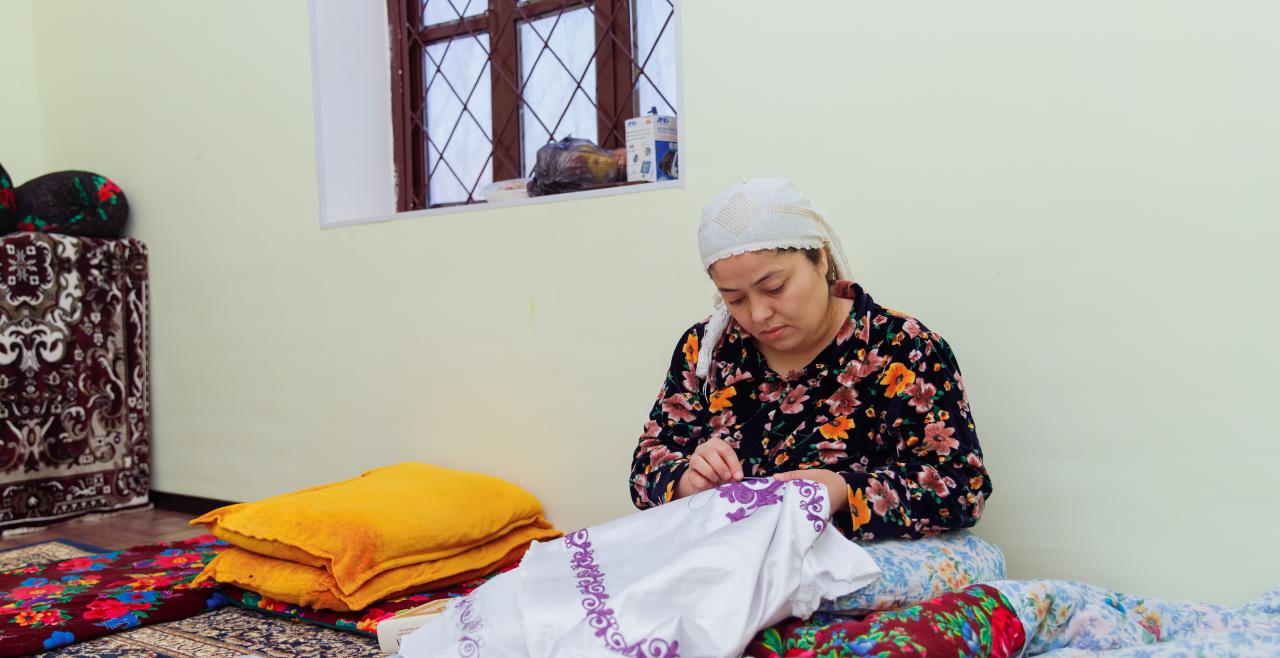 February 27, 2023
KULOB, Tajikistan - When Ramsiya Nazarova got married, her mother-in-law took an instant dislike to her. It wasn't long before her husband began to behave aggressively. He was a jealous man, which led to a lot of fighting. Nonetheless, the couple had two daughters together. When their second daughter was born with a disability, Ms. Nazarova's husband announced that he was migrating to Russia. 
"I was a second wife who has a disability. Constant bullying from my husband's relatives was the norm" - Ramsiya Nazarova
Shortly after leaving the country, he stopped paying rent on the family's apartment and cut off contact with Ms. Nazarova. She couldn't ask her husband's family for help, her mother-in-law told her "We do not need a kelin (daughter-in-law) with an invalid child". She and her children were kicked out on the street. 
Without a school certificate, it was difficult to find work, but she began helping local entrepreneurs at the market to sell their bread. In 2017, she got married again, this time to a man who already had a wife. While polygamous marriage is illegal in Tajikistan and second spouses are not recognized by law, customary unions are sometimes sanctioned unofficially by clerics. Ms. Nazarova gave birth to her third daughter. 
A year later, while cleaning their home, the roof collapsed on Ms. Nazarova, severely injuring her spine. She was forced to undergo two surgeries but still found it difficult to move or walk.
"I was a second wife who has a disability. Constant bullying from my husband's relatives was the norm," says Ms. Nazarova. 
Studies show that girls living with disability are four times more likely to experience violence than their non-disabled peers, while women with disabilities are twice as likely to be sexually assaulted. 
Through an awareness campaign, Ms. Nazarova learned about Zarshedabonu, a Spotlight Initiative-supported organization that assists women and girls with disabilities to understand and exercise their rights. They offered her free medical support, legal advice, and training in tailoring and cooking to help her generate her own income. Today, Ms. Nazarova is able to walk without crutches and her confidence has increased.
"Spotlight impacted my life by helping me to recover and raising my self-esteem. I want to work and become an entrepreneur. Although I have no education, I can do everything. Life has taught me a lot," she says. 
Thanks to the efforts of Afif and six national NGOs whom they supported and trained, many women like Ms. Nazarova have been reached. Over the past six months, more than 1,800 people have been reached with information on services to prevent violence against women and girls with disabilities through training sessions and other materials.
 "During the information sessions, I met other women subjected to psychological violence, who did not know where to turn. Now we know when, how and to whom to apply [for support] and how to protect our women's rights. Many of us are in touch and try to support each other," says Ms. Nazarova.
She has a message for other women who may be in a similar situation: "Don't give up, look for support and act for life without violence."
By Farangis Umedzoda with reporting by Public Organization "Afif", a partner of UN Women and Spotlight Initiative in Tajikistan
Like what you read? Spread the word.