The community watchdogs working to end violence against women and girls in Nigeria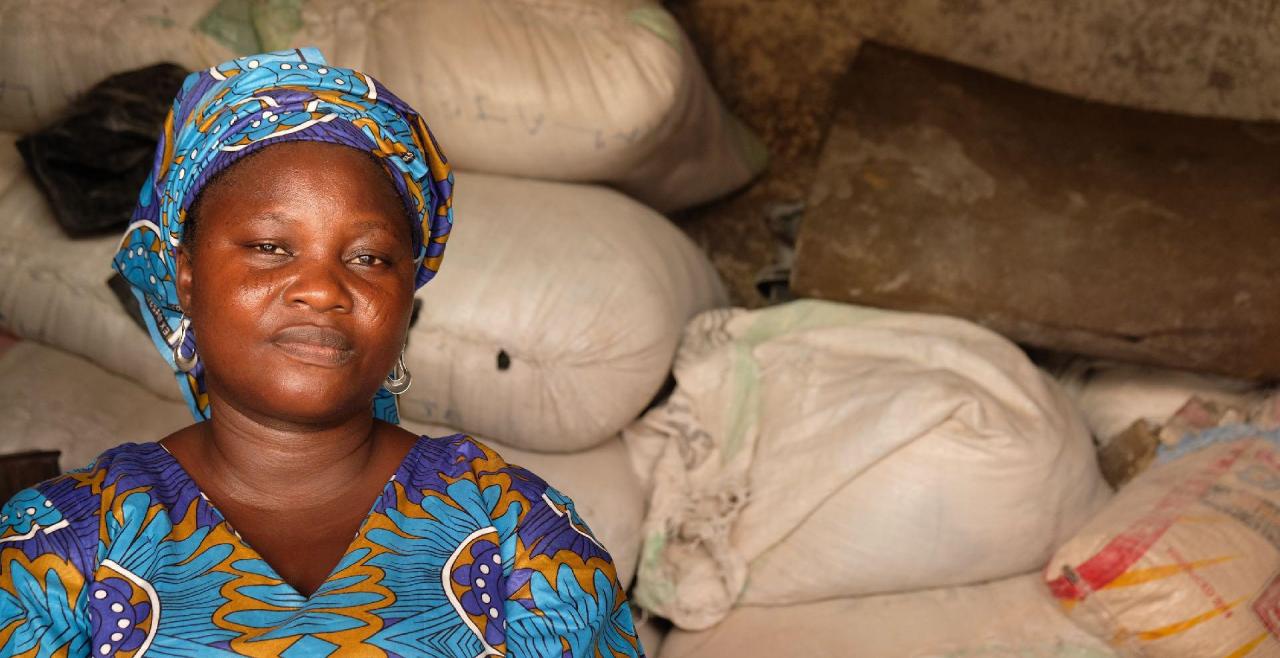 September 21, 2021
LAGOS, Nigeria - When Abiola Akamgbe, 41, isn't selling building materials at her store at Iwaya Market, the mother of three is working to bring violence against women and girls to an end in her community.
Ms. Akamgbe joined the Spotlight Initiative community surveillance team in 2020 and is part of a team of 10 people spread across the Iwaya community in Yaba, Lagos. Serving as a link between the community and the police, judiciary and traditional leaders, Ms. Akamgbe is often the first person women and children turn to when they experience violence. She reports these cases to NGOs and works with them to ensure that women do not endure further abuse.
She is well-known and trusted in the neighbourhood, and her contacts will often let her know if they see or hear anything suspicious. "It is so helpful because I cannot be everywhere at the same time," she says.
In 12 months, the community surveillance team has handled at least 50 cases of gender-based violence.
The surveillance team also carries out house-to-house sensitization sessions, but more community watchdogs like Ms. Akamgbe are sorely needed.
It is estimated that in Nigeria, 30 per cent of girls and women aged 15 to 49 have experienced sexual abuse. In 12 months, the team has handled at least 50 cases of violence including rape, child abuse, child labour and sexual violence. 
Despite their progress, intervention is not always easy. Sometimes, parents and guardians of survivors are reluctant to report. If girls are experiencing abuse at the place where they work, they may even be forced to return to their abuser for financial reasons.
Ms. Akamgbe relates the story of 16-year-old Ronke*, who was molested at work but felt too embarrassed to tell her parents. Unaware of what had happened, they pressured her to return to her job. Ronke told the surveillance team about her situation and they were able to counsel the parents on her behalf, ensuring that she was not sent back to work where she could be further abused.
"Cases of abuse are reduced because perpetrators understand that there are repercussions for their actions." - Abiola Akamgbe, community surveillance team
Whenever she gets a chance, Ms. Akamgbe advises parents and guardians to foster a supportive environment where children and girls feel comfortable speaking up. She will also refer families that are reluctant to report to the Family Support Unit at the police station for one-on-one counselling. 
Under the watchful eye of the surveillance team, Ms. Akamgbe says "the cases of abuse are reduced within the community because perpetrators understand now that there are immediate repercussions for their wrong actions."
However, not all cases are solved. Some are held up indefinitely in court, while sexual abuse cases that don't involve penetrative sex may not be regarded as grievous enough to warrant investigation. Other times, families simply withdraw the case or the team never hears from the survivor again.
In spite of the challenges, eliminating violence remains a passion for Ms. Akamgbe.
Training for the community surveillance team is supported by the Spotlight Initiative and there are currently 50 "community watchdogs" working in Lagos state. Community surveillance teams are present in all Spotlight Initiative regions of Nigeria.
*Survivor's name has been changed to protect her identity.
By Judith Owoicho 
Like what you read? Spread the word.