In Belize, women in transition are finding their POWA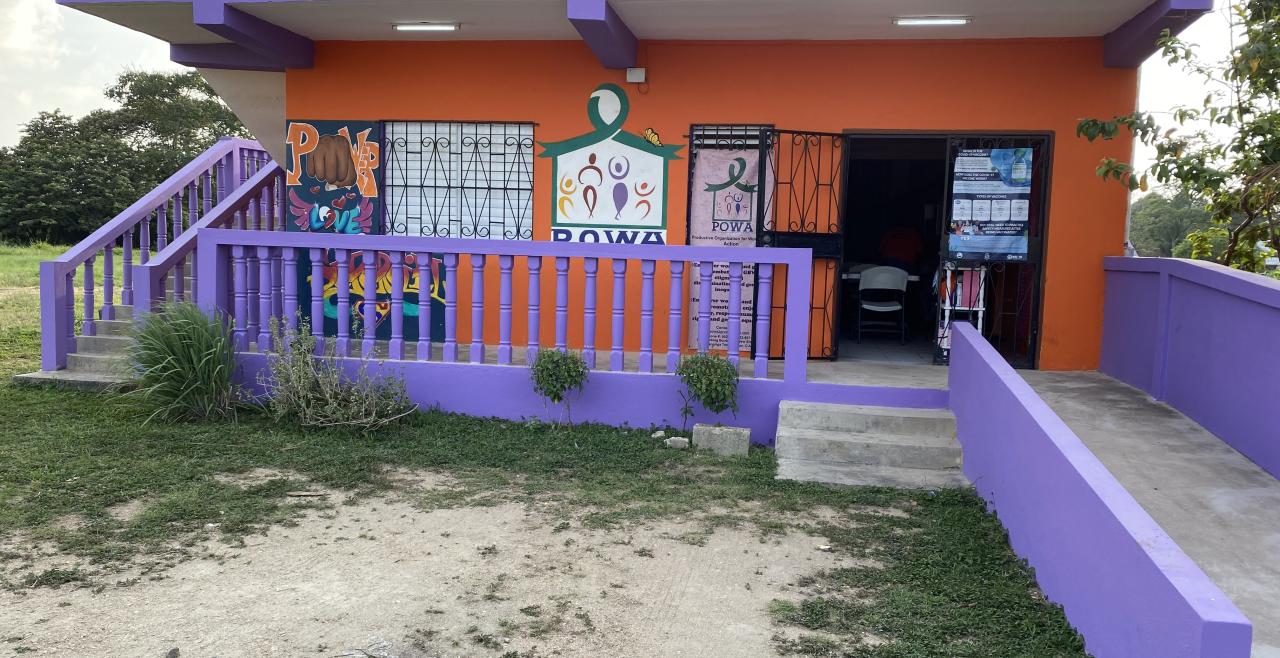 April 23, 2021
DANGRIGA TOWN, Belize - "The first time my husband beat me, it caught me by surprise," says Yolanda*, a 35-year-old mother of two. The second time he hit her, it happened in front of her 5-year-old son. For Yolanda, this was a turning point. "My son was saying, 'No, Daddy! No!' That was when I said 'I will not take this anymore.'" 
Yolanda left home and took her children to stay with a friend for a couple of days. It was then that she learned about the Productive Organization for Women in Action (POWA), a Spotlight Initiative-supported community organization that assists survivors of gender-based violence. 
"Assisting others gives me strength. I am there for a lot of people." - Yolanda*, 35, survivor and POWA volunteer
With support from POWA, Yolanda moved into a house of her own and received food packages until she was able to get back on her feet. In addition to attending the entrepreneurial learning sessions run by POWA to help women become financially independent, Yolanda now volunteers with the organization. She says that assisting others gives her strength.
"I am there for a lot of people even while I am going through my own thing," she says.
She's especially passionate about helping women to exercise their sexual and reproductive rights. "I have two young ladies that I help to get contraceptives," she explains. "Their partners don't want them to take pills. I have to help them do these things because their husbands don't approve."
Women helping women
Tackling such deeply rooted issues requires a comprehensive approach, says Michele Irving, POWA Coordinator and Women's Department Officer for the Stann Creek District. POWA-run initiatives include information sessions that teach women about their human and legal rights, parenting techniques, entrepreneurial skills, and sessions that raise awareness of domestic and sexual violence. For the women of Dangriga, POWA is a sisterhood - a safe space to learn, confide and feel empowered. 
"One of our strong points is our ability to nurture women physically, psychologically and materially," says Ms. Irving.
According to her, many former clients become volunteers, just like Yolanda.
"Sometimes that can be a source of healing – through helping others, women help themselves. These are some of the guiding principles and philosophies that we use." 
"Women are people first [but] our current culture diminishes and erases women. This influences how they see and value themselves." - Michele Irving, POWA Coordinator
A better life for our daughters
Violence was normal in the house where Margaret* grew up. Now 32, she can still remember how her father brutally beat her mother for years before they were able to leave.
"My mother would always tell me, if I experienced domestic violence, I should walk out of the relationship," she says. Despite this warning, Margaret spent 12 years in an abusive relationship herself. 
Ms. Irving says that this is a common story. When a woman experiences violence, it has far-reaching repercussions for her and the immediate family, but also on society and on future generations. Exposure to family and domestic violence influences how children view and engage in their own relationships as adolescents and adults.
"Self-esteem is a big issue," says Ms. Irving. "There is a reluctance to acknowledge women and girls as whole people and not just as props for their families. Women are people first [but] our current culture diminishes and erases women. So, this influences how they see and value themselves, and it opens the door to abuse."
Margaret says that POWA training has helped her become more confident.
"POWA helped me get counselling and built my self-esteem," she says. "I also did the parenting session and we learned a lot about communicating with your child and building a relationship. I told my mother she is my role model and she told me she was proud of me and that I am doing well for myself."
Though Margaret and Yolanda have maintained contact with their former partners, they say that they're now able to put their own needs and safety first. Violence is no longer a part of their relationships. 
The work of groups like POWA is pivotal in supporting women and girls to end the cycle of abuse for good. It's only through the work of front-line organizations and activists that a future without violence is possible.
By Stephanie Daniels Moody
*Names have been changed to protect survivors' privacy.
Like what you read? Spread the word.