Accelerating the push to end gender-based violence in Africa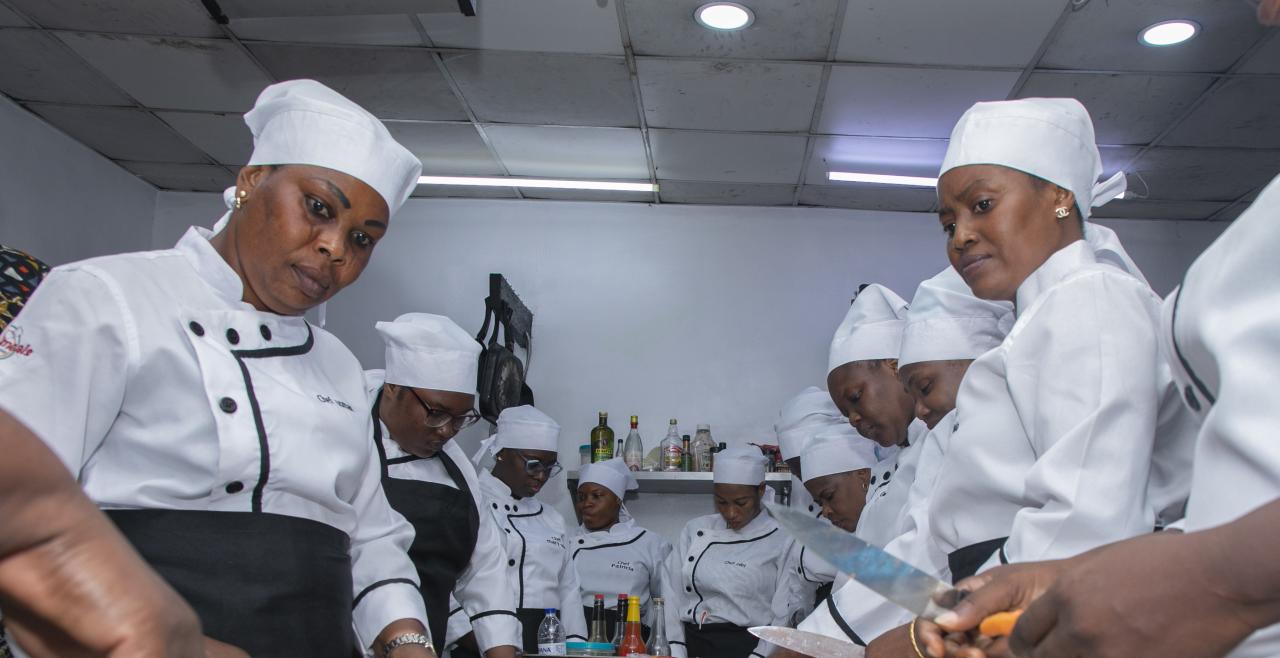 August 24, 2023
LAGOS, Nigeria – From 22-24 August, Lagos hosted a workshop to review strategies and learn from best practices adopted by Spotlight Initiative in Africa to combat violence against women and girls (VAWG). The workshop brought together delegates from eight Spotlight Initiative implementing countries in Africa, as well as government representatives and civil society representatives from organizations working to end VAWG.
The workshop was not just a reflection of the successes and challenges of Spotlight Initiative's Africa Regional Programme, but a clear call to action. With each passing day, African women and girls face the grim reality of VAWG, making it more crucial than ever to build upon existing efforts and strategize for impactful, sustainable solutions.
"Our shared determination to create a better Africa is a call to action, emphasizing the potential of women and girls," said Victoria Maloka, Head of Division for the Coordination and Outreach Division, Women, Gender and Youth Directorate at the African Union Commission (AUC). "This gathering is more than alignment with the African agenda; it urges strategic investments at all levels to drive positive change in the fight against VAWG. Collaboration is our strength, and we must work together to devise sustainable solutions for the challenges we face."
During the opening of the workshop, representatives from UNDCO, the EU-AU Delegation, the AUC, and the Lagos State Domestic and Sexual Violence Agency painted a vivid picture of the urgency of the moment. They emphasized the pivotal role governments play in fulfilling international commitments, such as the UN 2030 Sustainable Development Goals (SDGs), the AU 2063 Agenda, and regional treaties like the Maputo Protocol.
The collective message was clear: inaction is not an option.
"Violence against women and girls is a prominent global violation of human rights," said Hadana Youssouf on behalf of Yacoub Ali El-Hillo, Regional Director for Africa at the United Nations Development Coordination Office (UNDCO). "This form of violence not only obstructs human rights but also acts as an impediment to the realization of the Sustainable Development Goals for 2030. It is essential that national governments do not merely sign documents but tangibly display their commitment by aligning with aims such as the Maputo Protocol, investing in systems, laws, and data, and focusing on policies that effectively address gender-based violence."
A notable moment from the workshop was the acknowledgment of the significant strides made in Nigeria, with the implementation of the Violence Against Persons Prohibition (VAPP) law in 35 states – a leap from 19 states in 2019. The ratification of the Maputo Protocol in South Sudan also marked a commendable feat, achieved through persistent advocacy by civil society organizations.
"The Spotlight partnership has revolutionized our approach to combating violence against women and girls, advancing sexual and reproductive health rights, and restoring optimism to many," said Marianne Foulah, Spotlight Initiative Coordinator, Mali. "This collaboration significantly contributes to the 2023 Sustainable Development Goals and the 2063 African Union Agenda, solidifying stronger alliances and channeling collective efforts to protect women and girls."
Emphasizing the need for data-driven interventions, discussions revolved around the importance of legislative frameworks and bridging data gaps. Informed policies are essential, and harmonizing data ensures coordination and effective programming against gender-based violence (GBV) and harmful practices (HP).
"Spotlight Initiative marks a pivotal step, but understanding the socio-cultural nuances influencing gender-based violence is vital for effective interventions," said Dr.  Anthony Ajayi, researcher from the African Population and Health Research Centre (APHRC). "By fostering a culture of research appreciation among policymakers and influencers, we amplify the impact of evidence-informed strategies to combat GBV."
Country presentations revealed the transformative role communities play in addressing these issues. The consistent theme was the power of grassroots movements and collaboration between governments and community leaders as a critical pathway for change.
"Addressing sexual and gender-based violence (SGBV) and harmful practices demands a comprehensive approach where government plays a pivotal role in ensuring perpetrator accountability and fostering survivor-centered services," said Titilola Vivour-Adeniyi, Executive Secretary of the Lagos State Domestic and Sexual Violence Agency. "The commitment of the Lagos State Government is unwavering, as evidenced by our focus on evidence-based policies, sustained advocacy and established initiatives like DSEA. Gender equality and social inclusion are not just words but integral pillars of our developmental agenda."
On the second day, field visits offered direct insights into the lived reality of women and girls. Feedback from these expeditions highlighted the pressing need to amplify successful strategies and boost community involvement to tackle the pervasive issue of GBV while creating opportunities to lean and scale for impact successful initiatives.
The final day focused on innovative financial strategies for the upcoming Spotlight Initiative phase to be implemented at the country level.  This workshop signals a renewed dedication to combat GBV and HP across Africa.
Julius Otim, the Regional Spotlight Initiative Coordinator noted, "The Spotlight Initiative regional programming is transitioning with a fresh approach. While its structure might change, it will stand on previously laid groundwork. Teamwork and sustainability are of the essence. Given the significant involvement of African nations, aligning strategies with regional blueprints becomes vital for a seamless shift and sustained cooperation."
Background:
The Spotlight Initiative Africa Regional Programme (SIARP) is a collaboration between the UN, EU, and AU, aiming to counteract violence towards women and girls and harmful practices. The programme amplifies strategies like the African Union's Gender Strategy, the UN Agenda 2030, and the Maputo Action Plan. With interventions in Mozambique, Niger, Uganda, Malawi, Liberia, Zimbabwe, Mali and Nigeria, the initiative strives for impactful outreach across the continent.
Like what you read? Spread the word.