APIA, Samoa – "As soon as I started listening to the women and girls experiencing violence, my entire life changed," said 'Ofa Ki levuka Guttenbeil-Likiliki, the director of a women and children's crisis centre based in Tonga. For the past 17 years, 'Ofa has been providing front-line gender-based violence services to women and girls. She has heard sobering stories from women — stories she never imagined would happen in her small community.
"Kicking, punching, pulling of hair, biting and burning of body parts, stabbing using knives and glass. These types of violence do not just happen in Tonga, but everywhere in the world." - 'Ofa Ki levuka Guttenbeil-Likiliki.
'Ofa shared these testimonies of violence against women at the Spotlight Initiative high-level event in the Pacific. The event brought leaders and activists together to discuss how to best design a new Spotlight Initiative €50 million regional investment to end domestic violence in the Pacific region, where two out of three women have reported experiencing physical or sexual violence in their lifetime.
High-level commitment and cooperation
In his opening remarks, Prime Minister of Samoa Tuilaepa Aiono Sailele Malielegaoi spoke to Pacific Islands leaders about the importance of taking responsibility to address the issue of violence against women and girls across the region. "The success of the Spotlight Initiative depends on our commitment as leaders, the support of our partners and the engagement of our communities," said Mr. Malielegaoi. "As leaders of the Pacific, the change must always begin with us."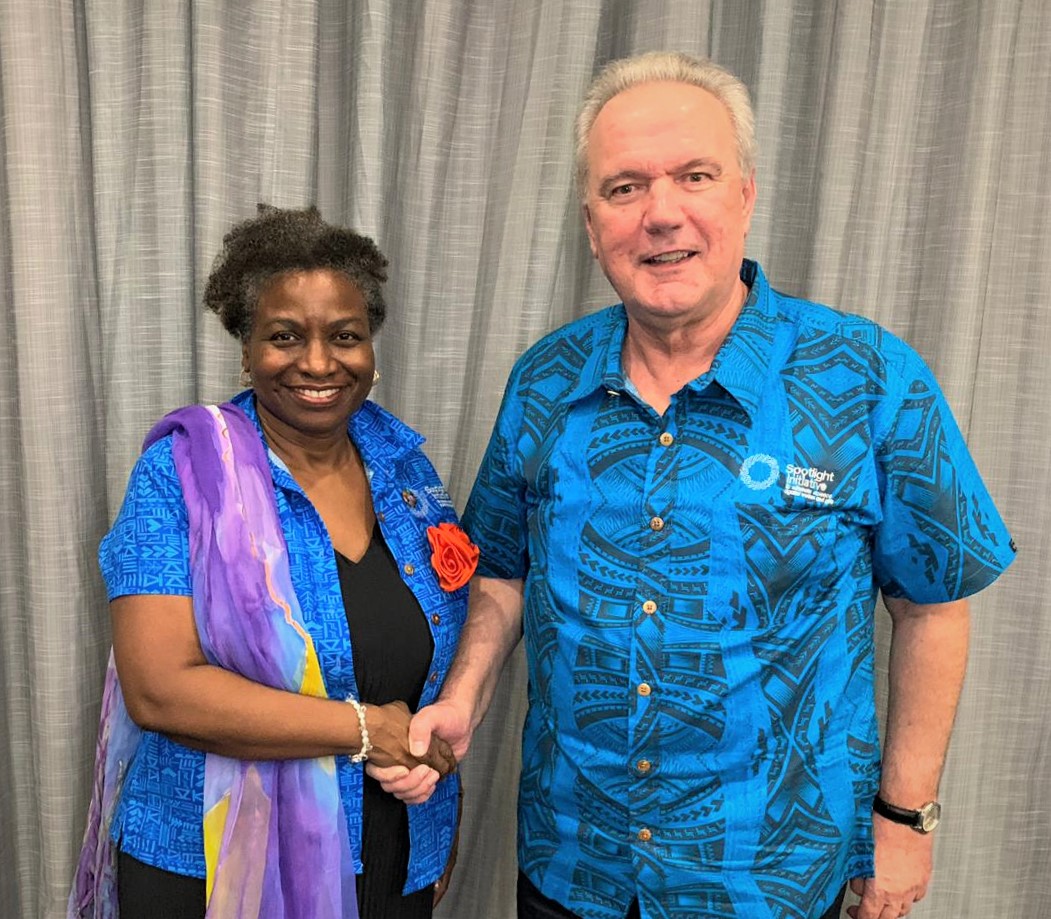 European Union Commissioner for International Cooperation and Development Neven Mimica spoke about the global nature of violence. He referred to the need for high-quality and reliable data on gender-based violence to guide interventions. "We are making this lack of comparable and reliable data a priority in the European Union," said Mr. Mimica. "Because the first step in fighting gender-based violence is having the full picture of how many lives it affects, in Europe and across the world."
United Nations Population Fund Executive Director Dr. Natalia Kanem reaffirmed the United Nations' commitment to ending violence against women and girls by 2030. "We can not fulfill the Sustainable Development Goals or the Pacific Islands Forum Leaders vision for 'a region of peace, harmony, security, social inclusion and economic prosperity' unless we end gender inequality and violence against women," said Dr. Kanem. "The Spotlight Initiative is an example of the multilateralism we need to solve the world's great challenges."
The Secretary-General of the African, Caribbean, and Pacific Group of States (ACP) Patrick Gomes was also in attendance. He expressed the ACP's commitment to fostering the dialogue and experience-sharing critical to ending violence across Africa, the Caribbean and the Pacific. "The keyword that I heard today is movement," Mr. Gomes said. "On behalf of the ACP, we are able to see that this world goes forward. It is vitally important, it is the number one issue to be dealt with as far as development is concerned."
The role of religion
Speaking about the critical role of faith communities as agents of social change, General-Secretary of Pacific Council of Churches Reverend James Bhagwan acknowledged how churches in the Pacific needed to play a more active role in ending violence. "Violence against women and girls, in all its forms, is a sin," Rev. Bhagwan said. "It goes against the Christian understanding of God's intention for human relationships."
Solutions from the front line
The event concluded with a discussion featuring civil society activists, regional institution leaders and gender-based violence experts who shared ideas on effective strategies to engage communities to end violence.
"We need a holistic approach that interlinks gender-sensitive communications and awareness strategies, support to response groups — including NGOs — and legislative and policy frameworks." - Tuiloma Sina Retzlaff, Domestic Violence Research Fellow, Trainer and Advocate.
"What is needed is a social movement that incorporates all we have talked about. Until there's a change that is embraced by everyone — that violence against women and girls is unacceptable — we haven't done anything." - Dr. Colin Tukuitonga, Director-General for The Pacific Community.
"It is important for us to not only engage young people in dialogue, but in thinking of solutions. It is about taking a pragmatic and proactive approach." - Betty Barkha, Association of Women in Development (AWID), Advisor, FRIDA Young Feminist Fund. Member, Women Deliver Young Leaders Program.
"We should support programmes that are actually working in the region. The Pacific Women's Network has been working for the past 20 to 30 years, addressing the root causes of violence against women. They have developed expertise and innovations on prevention and response." - Melkie Anton part of the regional male advocate network from Papua New Guinea.