Organized by the European Commission, the European Development Days (EDD) bring the development community together each year to share ideas and experiences in ways that inspire new partnerships and innovative solutions to the world's most pressing challenges. It is Europe's leading forum on development. The theme of EDD 2019 was "Addressing inequalities: Building a world which leaves no one behind."
Facebook live: UNFPA Executive Director Dr. Natalia Kanem and Spotlight Initiative's Head of Technical Unit Erin Kenny discussed the ways Spotlight Initiative and its partners are addressing the inequalities that perpetuate violence against women and girls.
EDD Lab Debate: The Spotlight Initiative also organized a EDD Lab Debate on Leaving no one behind: Shining a 'Spotlight' to end violence against women and girls, on 19 June from 10:45 to 12 p.m. | Link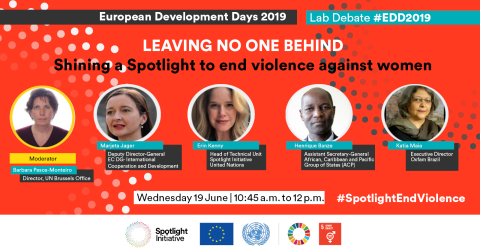 "We need to change the mindsets and root causes that cause violence. @GlobalSpotlight is a key priority for us in this effort," said Marjeta Jager, Deputy Director-General, European Commission - DG for International Cooperation and Development
"Ending violence against women and gender equality is the docking station on which we can achieve all the other #SDGs," said Erin Kenny, Head of Technical Unit, Spotlight Initiative, United Nations
"We have legislation in place in most of our countries," said Henrique Banze, Assistant Secretary General, African Caribbean and Pacific Secretariat. "What we need to do through @GlobalSpotlight is to end systems of patriarchy and change the mindsets of men." 
"In Brazil, 56% of the young people we asked told us that they know a woman who has experienced violence in the last 12 months," said Katia Maia, Executive Director, Oxfam Brazil. "We need to better engage young people to change society." 
"We should always talk about real people when we talk about ending violence," said Barbara Pesce-Monteiro, Director, Brussels Office, United Nations. Mrs. Pesce-Monteiro shared the story of Mexican activist Irinea Buendía.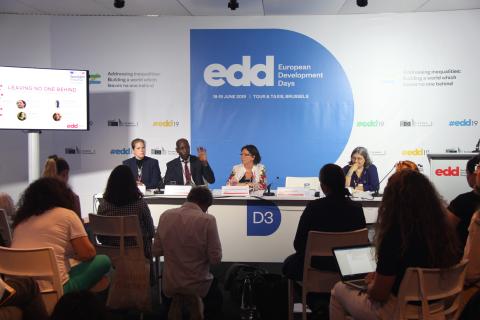 Speakers
- Marjeta Jager, Deputy Director-General, European Commission - DG for International Cooperation and Development
- Erin Kenny, Head of Technical Unit, Spotlight Initiative, United Nations
- Henrique Banze, Assistant Secretary General, African Caribbean and Pacific Secretariat
- Katia Maia, Executive Director, Oxfam Brazil
Moderator
Barbara Pesce-Monteiro, Director, Brussels Office, United Nations